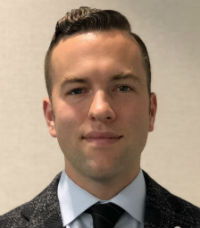 Kevin Ware, Senior vice president, RT Specialty
Senior vice president
RT SPECIALTY
Age: 30
In a short amount of time, Kevin Ware has ascended the ranks at RT Specialty, moving from entry-level account executive to full-time producer in just three years. This year, he became the youngest senior vice president of the firm, where he runs a property team of seven. So far in 2018, his book has grown by 85%, and he's on track to realize more than $2 million in revenue for the year.
"[I'm] very proud of this growth level in what is widely considered a very soft property market," Ware says. "We will be targeting the same level of growth, if not more, next year. One of my big differentiators has been my stock through-put program, which covers an insured's inventory worldwide."
Outside of the office, Ware serves as a board member at Imerman Angels, a one-on-one cancer connection charity for cancer patients, survivors and caregivers.
FUN FACT Prior to moving into insurance, Ware worked at ESPN for four years.