Jump to winners | Jump to methodology | View PDF
THE VIEW FROM THE TOP
In a traditionally male-dominated industry, women are increasingly making their mark. In this special report, Insurance Business Asia celebrates 21 women who are not just going above and beyond for their clients and organisations, but are championing diversity in every sense. They're also giving back to the community and the industry, innovating and driving change, fostering young talent, and striving for professional excellence.
It's no secret that insurance has a long way to go to reach full gender equality, and there has been much discussion around the lack of women in senior leadership roles. Recent research by Swiss Re into the world's 12 largest insurance markets shows that only 23% of insurance and reinsurance executives are women, and more than 90% of companies in the industry do not have a female board chair or CEO.
However, a glance through IB Asia's Elite Women list shows how much the landscape has shifted. Not only are women holding – and excelling in – high-ranking roles, but they are also reaching out a hand to those lower down the ranks to ensure the industry continues to make strides in diversifying its leadership.
Vanessa Teo, chief financial and operating officer at Great American Insurance Company, is blazing a trail for women in leadership. A core founder of the company's Singapore branch six years ago, Teo believes that to attract and retain more women, companies must make diversity planning an integral part of their talent strategy. Next, it's about cultivating the next generation of female leaders by equipping them for success. Finally, successful companies recognise that it's important for employees to feel included, respected, empowered and enabled to perform at their best.
That's why Great American strives to attract a diverse workforce. Today's professionals must balance work and family commitments, and a corporate culture that promotes a healthy work-life balance is essential to helping women succeed, Teo says. She also believes that to attract a younger generation of tech-savvy workers, "the industry should look into overhauling obsolete IT infrastructure to support innovation".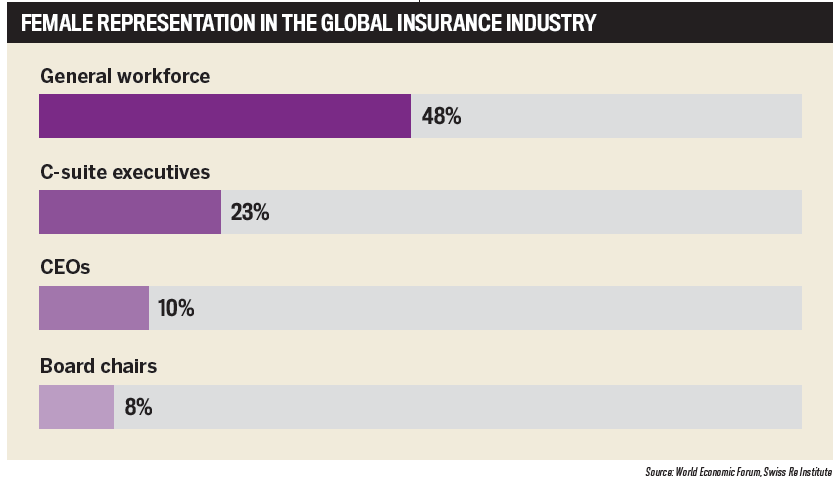 Agents of change
Many of the IB Asia Elite Women are doing just that – championing innovation, embracing new ways of working and inspiring others to do the same.
For example, Vivien Chua, chief technology officer at Shenton Insurance Brokers in Singapore, is spearheading digital transformation of her firm's direct insurance and reinsurance business. She directs technical teams and resources in product design, development, and delivery; one of her main contributions has been to launch a new insurtech business.
Then there's Lei Yu, CEO for North Asia and regional head of distribution at QBE Asia. Yu is a big advocate of digitisation and leveraging technology to create a better claims experience and helping customers get back on their feet as quickly as possible.
"Customers are looking for convenience and want things simple, easy and quick," she says. "Digital innovations and technology are important means to achieve that. What excites me is the ability to leverage digital technologies to create greater productivity, intelligence, simplicity and value for every party involved in the insurance ecosystem. It also helps us to better manage our customers' risk profiles and exposures. It's about real-time connections, and QBE enables digital to be more accessible during every step of the customer journey."
For Yu, mindset and digital skills are two barriers to transforming insurance into a modern, open and transparent ecosystem. "We need to attract more digital-savvy talent to join the insurance industry," she says, "while providing development opportunities for our people to upskill and embrace modern technology in this transformation journey."
Tricia Koh, regional director of market management for APAC at Euler Hermes in Singapore, works to attract new talent to the industry by partnering with universities to provide students with internships. She also participates in universities' mentorship programs and regularly shares her career journey as a guest speaker at their events.
"I have been very fortunate to have good mentors throughout my career who have believed in me and provided guidance and support along the way," Koh says. "This is why I'm passionate about nurturing the next generation of talent."
Koh believes many young people are looking past the outdated image of insurance and seeing exciting opportunities in the digitisation of the industry, innovative cover and the use of AI. Digital marketing professionals are highly sought-after, as customers are forever craving enhanced product features and customer experience. However, to have wider appeal, Koh believes the industry needs more publicity and good marketing to change its often negative public perception.
"The media would be a good place to start," she says, "by reporting on insurance protecting businesses from going into insolvency, people getting insurance payouts to help minimise hardship, and innovative products [such as] the Wimbledon tennis tournament being covered by pandemic insurance in 2020 with a payout of US$141m, or drought insurance for the farming community."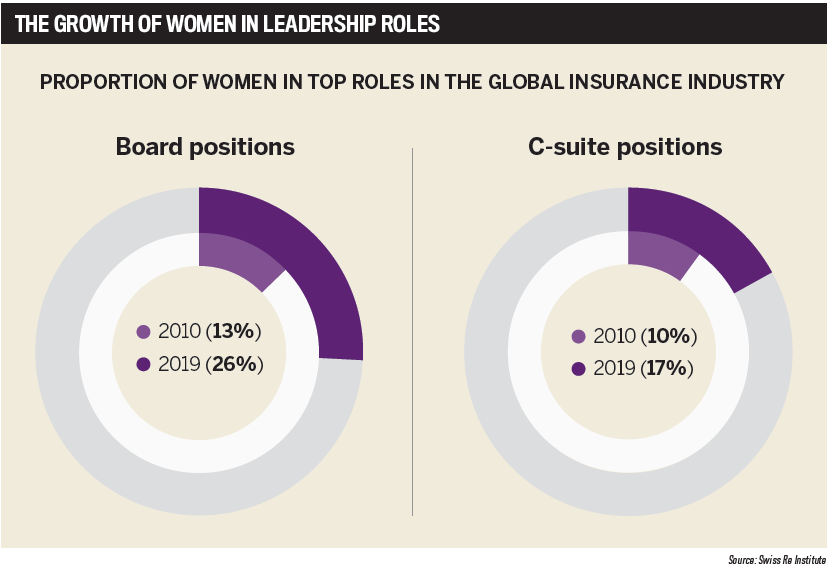 Advocating for other women
IB Asia's Elite Women aren't just stars of their own organisations; they also contribute to the betterment of the wider industry, always with one eye on the future. Lisa Sun, president and CEO of AIG China, says mentorship has been important to her career, but she believes sponsorship is the way to get more women into executive roles.
"It is probably by far the most meaningful tool organisations can deploy to help lift female representation at the leadership level," she says. "Sponsors can help pave the way for sponsees in gaining access, exposure and visibility to senior leadership. In addition, the willingness of sponsors to take risks on high-potential female talent is critical to an organisation's success when it comes to advancing its [diversity, equity and inclusion] agenda."
Sun is also an advocate of formal networks as a way to help women achieve their career ambitions.
"I am fortunate to have participated in various women leadership programs, and most recently, I just graduated from AIG's WELI [Women Executive Leadership Initiative] Program," she says. "Through these types of programs, women leaders can develop a broad network and deep relationship with other like-minded female professionals. This network can be an immense source of support and peer coaching."
Joan Collar, Mercer Marsh Benefits leader for Asia at Marsh Singapore, mentors three female colleagues, one of whom has now taken a global role in the company. Collar sees mentorship, along with dedicated personal and professional support networks, as key to helping women progress.
"When I started my career, I was a young single mother in Malaysia, and at every critical turn, someone was there, saying to me: 'You got this. We believe in you. How can I help?'" she says. "Beyond mentorship, we should connect women to the right people for their career growth and nominate women for projects to give them experience and opportunities to shine. I've also seen how women get more space to excel in both their personal and professional lives through flexible working arrangements."
Collar uses her voice to champion diversity, equity and inclusion, and she's been open about her own struggles with mental health to advocate for greater industry attention on the subject.
"Being open with my vulnerabilities and failings has encouraged many others to understand they are not fighting their battles alone," she says. "While many businesses recognise the importance of mental health, the challenge is ensuring there is sufficient funding from our partners and having insurers support the mental health development and cost exposures that companies have. Unfortunately, this is still an optional cover from an insurance standpoint – aside from the international carriers – and there is a limited coverage or understanding around how this needs to be underwritten. Fundamentally, a change is needed from all players in the ecosystem to support the financing aspects of mental health."
Each of the inspirational female leaders on IB Asia's Elite Women list is innovating, offering top-quality service to clients and pushing the industry as a whole to perform at its best. But perhaps their most important contribution is paving the way for the next generation of female leaders and carving out a future that finds strength in diversity.
Josianne Robb


Chief digital officer, Asia, Manulife

Kelly Wong


Head of claims, Hong Kong, AIG

Margaret To


CEO, Chaucer Singapore

Naulpham Lamsam


President and CEO, Muang Thai Insurance

Nguyen Thi Nguyet Thanh


CEO, Vietnam, AIG

Sandra Lee


CEO, Asia, BMS Group

Selina Lau


Chief executive, The Hong Kong Federation of Insurers

Sze Keed Wong


CEO, AIA Singapore

Tricia Koh


Regional director – market management, APAC, Euler Hermes

Tulsi Naidu


CEO, Asia-Pacific, Zurich Insurance Group

Veronica Grigg


President, Asia, Crawford & Company

Vivien Chua


Chief technology officer, Shenton Insurance Brokers

Winnie Wong


CEO and executive director, Asia Insurance Co. and Avo Insurance Co.
Nominators were asked to describe their nominee's standout professional achievements over the past 12 months, along with their contributions to diversity and inclusion in the industry and how they've given back through volunteer roles and charity work. Recommendations from managers and senior industry professionals were also taken into account.