Jump to winners | Jump to methodology | View PDF
NEW IDEAS FOR A CHANGING MARKET
Insurance Business Asia's Rising Stars showcase celebrates the emerging talents who have demonstrated excellence and innovation to overcome the challenges of 2021. Throughout the year disrupted by the COVID-19 pandemic, many drove their business operations to improve efficiencies and develop innovative ways of working.
These young professionals highlighted the importance of strengthening connections at a time when social distance was imperative. Their endeavours included using advanced technologies to communicate with clients and staff. In some cases, they introduced new operations or products to serve existing and emerging industries.
IB's Rising Stars brought an eye for detail, high-quality and efficient work, and a proactive approach to the insurance industry. Known for their innovativeness and ability to cut through the industry's traditions, these young professionals take the time to explain complex concepts to their clients and demonstrate a high degree of customer care. For many of the Rising Stars, these attributes have led to commercial success.
One success story is how Rhiannon Alban-Davies, regional head of fine art & specie – Asia at Willis Towers Watson, grew the company's fine arts, jewellery and specie insurance division by 45% year-on-year over six years. Another inspiring example is Nikhil Harne, who took on the additional responsibility of introducing digital marketing to his role at Puri Crawford Insurance Surveyors & Loss Assessors India.
Together, the Rising Stars are creating the future of the insurance industry in Asia.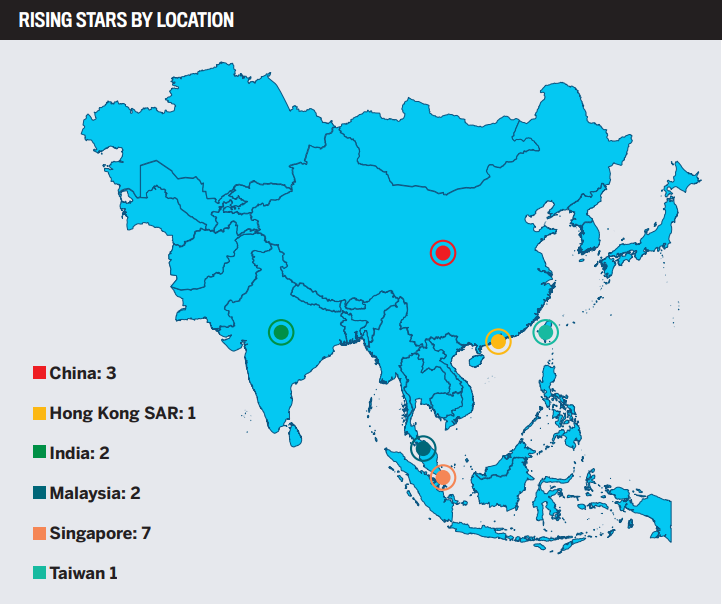 Innovation first
All of the awardees have contributed significantly to the industry through their firms, embedding new technologies and overcoming adversities to build market share. When the COVID-19 pandemic hit the region, these young professionals were able to make the most of the situation.
Lynette Liu, senior account manager at Marsh China Insurance Brokers, worked strategically during this time to establish industry-leading programs in her sector of life sciences, which has put the company on the map as a leading provider of services to the biotech industry. This service was critical as companies raced to develop vaccines against COVID-19.
"Lynette has produced and placed the largest global clinical trial program in China and the largest brokerage portfolio in the life science casualty market," a company spokesperson says.
"With the COVID outbreak in 2020, the whole life science industry [faced] imminent challenges at all levels, especially local biotech companies that participated in vaccine research and development.
"During the past 12 months, Lynette devoted herself actively to working with local clients and global insurers to develop and launch a comprehensive clinical trial and product liability insurance program to assist local firms to mitigate risk exposure."
A client that benefited from the insurance program was Sinovac, which manufactured one of the vaccines distributed worldwide.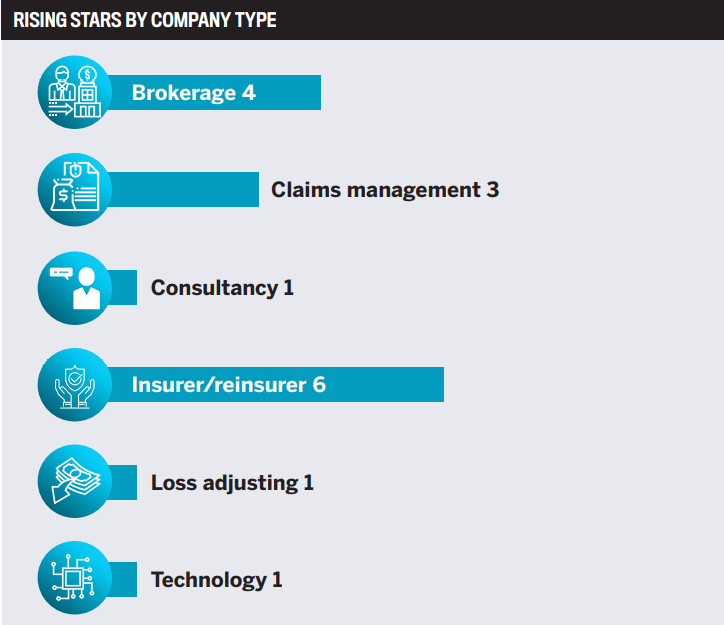 Fast adaptation
The pandemic also shaped the way young insurance professionals worked.
Eugene Ang, manager and loss adjuster at Crawford & Company, was challenged due to limited direct access to client sites. However, he accommodated new ways of client liaison and continued to support the business regardless of the restrictions.
"He's a problem solver who looks for different ways and approaches to better solve any difficulty," a company spokesperson says.
"A go-getter, he never takes no for an answer. He's committed to continuous learning and is always looking to learn something new or improve on what he knows. Eugene is growing the business portfolio through his out-of-the-box ideas."
Nikhil Harne, manager at Puri Crawford Insurance Surveyors and Loss Assessors, also harnessed new ideas to gain more business in India's underrepresented SME market. Focusing on motor and fire insurance products for this segment, Harne was able to expand the market and provide protection for new clients more easily.
At the same time, he created an internal training method to upskill workers across all insurance products.
"My goal was for each employee to be able to answer all types of questions from the client irrespective of the product. Due to the system implemented regarding SME insurance and the performance management system, our team grew by 35% in a year," says Harne.
Seeing the potential for new products for smaller businesses, Anuj Shah, chief operating officer at Vibrant Insurance Broking, also targeted this market.
"We are now growing 20% year-on-year in terms of SME premium. I have also led in gaining many listed companies, which are in our pipeline. I also came up with the idea of 'gas insurance', which involved putting up stalls on petrol pumps to issue instant motor insurance," says Shah.
The gas insurance innovation generated thousands of new policies. Another growth driver was the digitisation of the company's client-facing processes, which Shah commenced for the Vibrant team.
WTW's Alban-Davies also enabled significant growth, as well as transforming the company's profile in her segment of Asian fine arts.
"Although museums were closed, exhibitions were cancelled or rescheduled and the business of commercial organisations [weakened], Rhiannon and her team achieved another successful year by staying close to the Hong Kong art community virtually," a company spokesperson says.
"In 2020, Rhiannon expanded her client portfolio to private and individual collectors, as well as brought general specie and jewellery block clients on board. Under her leadership, the book has grown by over 40% in 2020 and remained one of the fastest growing in Hong Kong since 2016."
WTW's head of corporate risk and broking commended Alban-Davies' work as "everything we look for in our young leaders".
Anuj Shah


CMO and COO, Vibrant Insurance Broking

Eugene Ang


Manager and loss adjuster, Crawford & Company Singapore

Eu Riang Lim


Manager, Crawford & Company Malaysia

Ivan Fung
Hong Kong risk officer, AIG Insurance Hong Kong
James Pan


Senior account executive, Marsh Taiwan

Jason Chou


Chief agency officer, Sun Life Hong Kong

Jeanette Lim
Regional head of agency development and incentives, Chubb Asia-Pacific
Lahiru Maduranga


Regional manager, Softlogic Life Insurance

Lee Pit Wen


Regional operations director, Charles Taylor Adjusting

Lynette Liu


Senior account manager and AVP, Marsh (China) Insurance Brokers

Nikhil Harne


Manager, Puri Crawford Insurance Surveyors & Loss Assessors India

Pin Li Lim


AVP and claims advocate, Marsh Asia

Sonia Notani


Managing director – South Asia and Middle East, Outsized

Vincent Xu


Chief operating officer, Finology

Yee Kan Carmen Wu


Interim healthcare leader, Crawford (HK)