Jump to winners | Jump to methodology | View PDF

CREATING A NEW WORKPLACE CULTURE
This year has been a challenging time for the insurance industry as the COVID-19 crisis settles uneasily into a 'new normal' of disrupted workplace culture, while the long-term economic consequences continue to play out on the global stage. As an industry, insurance has aimed to accelerate recovery and forge a path back towards profitability and growth.

These goals are unachievable, however, if companies do not prioritise their employees' safety and health – whether physical, mental or emotional. If the pandemic has taught the world anything, it is that despite increasingly digitised workplaces, an organisation's greatest strength rests in its employees. And great employees are attracted to and maintained by great employers.
To be a truly great employer, companies must provide many things to their employees. Some are straightforward, such as competitive salaries and benefits, necessary resources, and a safe work environment. Others are more intangible: an inclusive, welcoming work culture; flexibility and willingness to adapt to employees' needs; a positive atmosphere that promotes honesty and encourages growth.

Because nobody knows the ins and outs of a company better than its employees, IB Asia surveyed insurance professionals across the continent to find out how their employers are performing with regard to compensation and benefits, diversity, employee development, and culture. According to their responses, 11 companies achieved the distinction of being named a Top Insurance Workplace for 2021. Employees also spoke about which of their employers' strategies and initiatives have been particularly effective.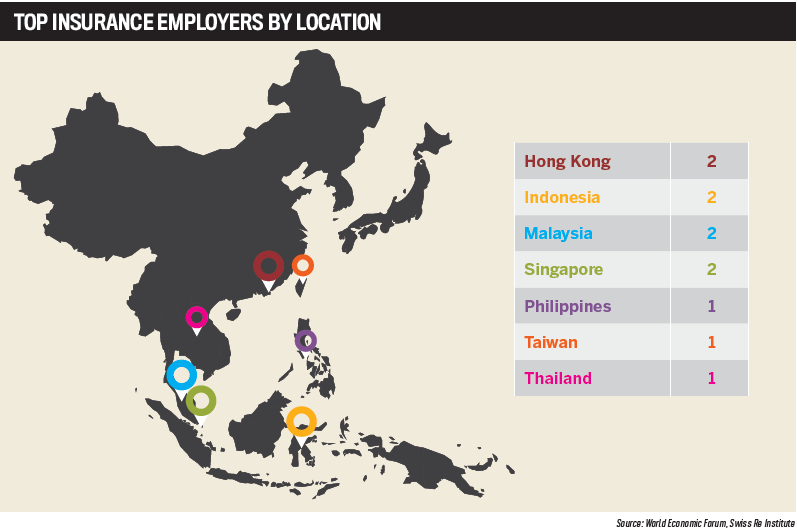 Secrets of success
An analysis of the data collected through this year's survey shows interesting commonalities among the winning employers. Remuneration forms the most basic tenet of the relationship between employers and employees. Across the winners, several factors elevate the art of remuneration. All respondents described their pay as competitive, from Allianz Taiwan Life's commitment to providing "market- competitive remuneration and benefits above the minimum wage," to AIG General Insurance conducting regular salary benchmarking to remain competitive in the global job market.

AIG has a global job grading framework in which employees performing the same jobs are in the same pay grade regardless of location, which allows the company to ensure "fairness, transparency and consistency". Transparency is a key phrase in this area.

"Workplace transparency is proven to breed long-term success. Done well, transparency creates trust between employers and employees, helps improve morale and lower job-related stress while increasing employee engagement and boosting performance," says Danny Lam, chief executive at Allianz Taiwan Life Insurance.
"The engagement, trust and commitment from our employees are critical to shaping our company for future success," Lam says.

A recurring feature observed across winning employers is performance-based compensation, whether a yearly bonus calculated by factoring the company's performance and individual performance, as Krungthai-AXA Life Insurance does, or providing better payment to employees with higher performance and productivity, as is the protocol for PT Great Eastern Life. This practice motivates employees and helps show appreciation for and retain good performers. The survey results show that they may be right.

"We invest in our people, equipping them with the skills they need to lead their teams for today and tomorrow," says Bubphawadee Owararinth, chief people officer at Krungthai-AXA Life Insurance.

The path to lifelong learning
In terms of training and professional development, all winners take advantage of digital transformation. There is a wide range of online learning hubs available to the curious insurance worker, but true excellence is achieved when the learning path is personalised for each individual employee. Flexibility and customisation make employees active participants in their own development, and strengthen engagement and outcome.

"Employees are thirsty for lifelong learning and seek development opportunities at work. They aren't attracted to fancy job titles and ping-pong tables. Instead, they look for jobs that can help them pursue professional growth and development," says Lam.

Professional development is often tied tangibly to career progression to empower and motivate employees. This is a priority at Krungthai-AXA, which won AXA's Global Gamification Learning Week competition for the third consecutive year. This event highlights key themes that employees are learning, such as digitalisation, data and climate change. Krungthai-AXA also had the highest adoption rate in learning culture compared with AXA offices worldwide.

A diverse, inclusive environment
Many companies talk about the importance of diversity and inclusion. What distinguishes the winning employers is their willingness to put their money where their mouths are and undertake actionable steps towards championing inclusion and diversity in the workplace.

Such practices include the widespread recognition of same-sex partnerships for health and employee benefits, as well as offering paternal, transgender and same-sex union parental leave as a matter of policy.

Allianz Indonesia's goal is to have a 0% gender gap in terms of pay band, number of male and female employees, and parity of career progression.

Pius Yudono, head of people at Asuransi Allianz Life Indonesia, says that "in this difficult situation, the only way to win employees' hearts is by doing real actions and showing our true value".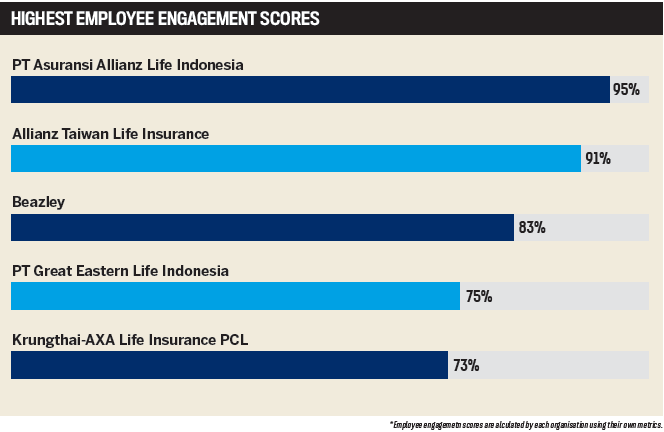 Wellbeing comes first
With regard to COVID-19, the winning companies' responses had two key channels. The first is access to technology and resources – making sure employees have all the necessary assets to facilitate a smooth transition to working from home. For instance, AIG General Insurance deployed 3,600 PCs to employees' homes and undertook network upgrades to improve audio, video and content quality for the staff.

"During the pandemic, AIG stepped up to prioritise employees' wellbeing and health. AIG understands the importance of optimal wellbeing, resulting in a more productive, proactive and positive workforce," says Sandeep Mookharjea, head of HR.

Beazley supported its staff throughout the transition by providing an allowance of S$1,000 to equip them with home office gear and an additional S$950 to review and upgrade their remote working tools.

In addition to supporting their employees at work, companies also recognised the importance of their personal lives. AIG in both Singapore and the Philippines acknowledged the unique challenges the pandemic created, such as lack of child-care options, the need for homeschooling and caring for family, so the organisation instituted COVID-19-related flexible work arrangements that provide greater flexibility to assist with work-life integration. These arrangements enable employees to telecommute, work hours outside of the traditional workday, and work reduced hours or consolidate their work hours into fewer days.

There was also a widespread adoption of mental health awareness and support programs. The Top Insurance Employers showed recognition of not just the responsibilities that employers and employees owe one another, but what they owe one another as human beings who may differ in organisational rank, but are fundamental equals within a shared community.
Hong Kong
Indonesia
Asuransi Allianz Life
Great Eastern Life
Malaysia
AXA Affin General Insurance
Manulife Insurance
Philippines
AIG Philippines Insurance
Singapore
AIG General Insurance (Asia Pacific)
Beazley
Taiwan
Thailand