Allianz PNB CEO outlines firm's plans | Insurance Business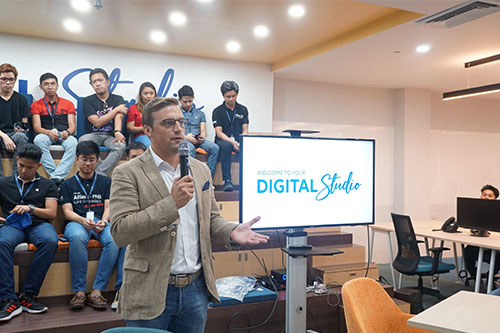 Global insurance giant Allianz sees the Philippines and other Southeast Asian nations as major growth engines, due to their fast-growing economies and insurance industries, according to Alexander Grenz (pictured), CEO of Allianz PNB Life.
Grenz, who took the company's helm in June, recently held a media roundtable at the Allianz Digital Studio, the insurer's newly inaugurated workspace in Manila. He cited Allianz Research's findings that premiums are expected to grow 9.4% per annum over the next decade in Asia (excluding Japan). Around 60% additional premiums are expected to be generated in the region. In the Philippines, the market is projected to grow 12.3%. Divided by segment, this translates to 13.5% in life and 8.3% in P&C.
"Allianz's strong performance in the Philippines reflects the country's economic growth and strong macroeconomic fundamentals, and we are looking to leverage on the continuous expansion of economic activity in the country," Grenz said, adding that the insurer is investing heavily in the region. Since acquiring its Philippine arm in 2016, Allianz has been the fastest-growing insurance company in the region for two consecutive years.
Read more: Asia's insurance growth set to rebound – Allianz
Premiums in the Philippines grew by 17.7% in 2018, exceeding the regional average and marking the best result in the last five years. Life insurance, which accounts for more than 70% of the premium pool (without health), grew 20.4%, almost twice as fast as P&C (11.1%).
P&C and Reinsurance
With regard to Allianz's plan to expand into the P&C segment, Grenz said that while the P&C market in the Philippines is growing, it has yet to become profitable.
"We are highly interested, as the background of Allianz is P&C, which is where we started off," he said. "But in Asia, life insurance is the predominant space – it contributes 70% of premiums in Asia. P&C is something that still needs to catch up here in the Philippines and other Asian markets."
"We're looking into it but it's not a very pressing issue. We're observing the market and are trying to find out what's a good entry point and timing for us."
As one of the largest insurance companies in the world, Allianz is also active in reinsurance through its Allianz Re arm. While it mostly did internal reinsurance, Grenz said it has recently begun reinsuring outside business. Headquartered in Munich, Allianz Re has reinsurance hubs for several regions, with Singapore in Southeast Asia.
"We would love to do more with regard to calamities, but it requires us to also insure in the P&C side," Grenz said. "Given that we don't have a [Philippine] P&C licence yet, we haven't entered this space, but Allianz Re is open and active in taking reinsurance risk, such as through nat cat bonds."
Focus on life
With the company's focus on life insurance, Grenz said it is currently developing a wider unit-linked and investment-linked product offering. It is also looking to enter sustainable investment with the launch of its Philippine Peso-denominated environmental, social, and governance (ESG) fund.
"We see all over the globe that the theme of sustainability is a hot topic," he said. "People are more aware and more interested in the environment."
Regarding expansion plans in the region, Grenz said that while Allianz is looking for more acquisitions in Asia, it is proceeding cautiously. He cited Allianz's reputation for conservative investing, targeting stable returns instead of rapid short-term growth.
The same behaviour can be seen in Allianz PNB's agency channel. According to Grenz, while the company's agent numbers have grown quickly in the past three years, the company wants to focus on quality over quantity.
"Last year, we recruited around 1,200 agents nationwide, and we have a target of around 2,000 this year," he said. "However, we are revisiting whether this is a right target. Agent numbers are not everything. We are looking at the activation and the quality of our agency network. Sustainability of the agency is also important."
Modern and diverse growth
Grenz, who previously served as the chief operating officer of Allianz PNB, said that amid a fast-changing business environment, the company is hands-on to build a more diverse business model.
"We all know how fast-paced the insurance industry is; the pressure and expectations are high from all sides – our customers, our investors, our regulators, and among ourselves," he said. "Late last year, for instance, we saw changes in reserve requirements for banks to address the spike in inflation. This resulted in liquidity shortage in the bancassurance industry. Even though we are still performing better compared to our competitors, we definitely need to catch up in the second half of the year."
Another area Allianz PNB is working on is a transition towards paperless transactions. This is one of the features of its Digital Studio workplace, which has real-time monitoring of sales – aided by its digital tool for mobile devices, which assists agents through the sales process.
While it is making progress towards this goal, Grenz admitted it's not easy, especially in a market with a less-developed digital infrastructure.
"We still have paper. As much as I regret it, it's not easy to get rid of legacy."