Building the new Chubb | Insurance Business Asia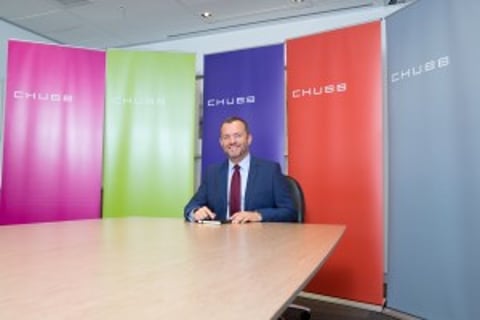 It was 1 July 2015 when it was announced that ACE Ltd would acquire The Chubb Corporation.

This year, on 14 January, the completion of the acquisition was announced. ACE had paid approximately US$29.5bn (A$38.55bn) in cash and stock for Chubb. That transaction – said to be the biggest ever acquisition for the insurance industry in the US – resulted in the creation of the world's largest publicly traded property and casualty insurer, which comes together under the Chubb name.

"Our passion for underwriting, along with our industry-leading claims, risk engineering and loss control services and substantially increased data, distinguish the new Chubb as we pursue new, profitable growth opportunities in both developed and developing markets around the world," Evan G. Greenberg, Chubb Ltd's chairman and CEO, said in a statement in January announcing completion of the transaction.

The story so far
On 1 April, the legacy ACE and legacy Chubb businesses in Australia commenced operations together. John French, previously ACE's country president for Australia and New Zealand, is the man now heading up the new Chubb in both countries. The company is the sixth largest general insurer in Australia.

French tells Insurance Business the integration of ACE and Chubb in Australia has "progressed well".

"We began collaborating when the global transaction closed on 14 January and have been working together closely since then," he says.

"On 1 April, we commenced operating under a new single management structure with quality leadership from both legacy organisations.

"We are seeing close collaboration across our operations, from product harmonisation processes to new efficiencies which will enable underwriters to spend more time in the market with brokers."

French has chalked up more than 25 years in the insurance industry. Much of that time has been spent with ACE, which he joined as a business development manager in Sydney in 1997. Since that time, he's been Australian general manager and then gone on to serve as country president of ACE in Singapore, Thailand, Hong Kong, Taiwan and Macau, returning to Sydney to head up the insurer's Australian and New Zealand operations in March 2014.

French speaks highly of the people he's worked with over the past two years.

"During my time as country president for Australia and New Zealand, I've been lucky to work with a very talented team of professionals," he says.

"We have focused on underwriting excellence, broker relationships, bringing quality risk management solutions to market and offering an outstanding claims service."

Insurance Business asked French why the decision was made to adopt the Chubb name globally.

"This is an acknowledgment of the distinctiveness and strength of the Chubb brand," he says.

"Chubb is a unique name with 130 years of heritage. It stands for excellence, quality and service."

The new Chubb
So, what can Australian brokers and their clients expect from the new Chubb?

French says that they're bringing a "fresh and vibrant" brand to market.

"Chubb has specialist expertise in underwriting complex risks and excellence in claims," he says.

"We've structured our distribution to provide local underwriting service for both global and independent brokers. Backed by AA- financial strength and our global network, our local team has a compelling offering for intermediaries and clients."

French speaks further about what the new combined company means for customers.

"Legacy ACE and legacy Chubb are two great underwriting companies that share a passion for production innovation and outstanding client service. Together as Chubb we are bringing the best of both organisations to service the market," French says.

"For distribution partners we are offering enhanced products backed by exceptional financial strength and security for clients.

"Across a diverse range of intermediaries that operate in the Australian and New Zealand markets, we will be better equipped to assist in the growth of businesses with a broad product offering in a number of specialty and traditional product areas."

French cites a number of examples.

"We now have a significantly increased capacity within our property ISR portfolio, our capabilities within construction have been enhanced, and our environmental liability solutions will be available across a far wider distribution network."

He continues: "Our financial lines business has dramatically increased in size, as has our accident and health business and our personal lines portfolio. In each of these areas we are now in a stronger position to work with brokers in meeting the insurance needs of clients."

French says the combination of ACE and Chubb enhances the organisation's capabilities to deliver on its strategy of providing quality products and services to ensure customers are properly protected.

"Our independent broking partners will see a vastly enhanced product suite with significant strength in general property, casualty construction and environmental in addition to existing financial lines and package capabilities they currently enjoy through the legacy Chubb business. This will be delivered through a dedicated underwriting team in each state," he says.

"For our large and global broker partners, a dedicated team in each state will continue to focus on delivering a customised service, from small SME facilities to tailored large multinational programs.

"Ultimately, for Chubb, this is about providing our distribution partners with the products and service they need to grow their businesses as we aim to create growth and value right throughout the distribution chain."

The year ahead
Looking forward, as ANZ head of the new Chubb, what will French's and his team's focus be for 2016?

"This is a growth story. We have taken the opportunity to integrate two highly talented and motivated teams. We will now implement a dynamic and long term strategy, distributing our expanded product through a broader network of distribution partners," he says.