QBE Singapore's new CEO gives outlook on Asian insurance market | Insurance Business Asia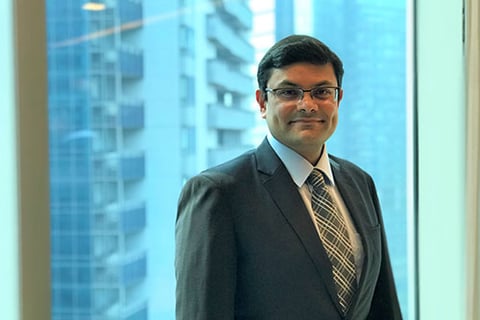 Ronak Shah (pictured) was appointed in September 2019 as CEO of QBE Singapore, having joined the company as regional head of financial & professional and casualty lines two years prior.
A few months into his new role, Shah spoke with Insurance Business and shared his outlook on the Asian insurance market and some of his priorities as he gets down to business.
According to Shah, the past decade was characterised by a major, tech-driven shift in how people live, work, and communicate. And this has greatly impacted the insurance industry.
"In particular, we are seeing an increasing preference for product personalisation from our customers," he said. "This will have long-term impacts on the industry, with insurers needing to take the appropriate steps to move beyond traditional approaches to selling and delivering products to customers who expect customised solutions.
"Our industry today is marked by transitions to digital platforms and mediums, driving new service-based models and innovative product types with a stronger focus on prevention of risks. This is particularly crucial in an increasingly uncertain global economy."
Shah mentioned several major challenges facing the industry nowadays, first of which is climate change. Its effects, such as more common natural disasters, have implications on insurance premiums, risk management, and the underwriting sector, he said.
Another issue that requires close attention is the ongoing geopolitical tensions in the Middle East. This, he said, has created more instability in an already volatile economy that is still seeing prolonged trends of protectionism and tense trade relations.
"These challenges emphasise the importance of proactive protection measures against unpredictable events," said Shah. "More importantly, they are a call to action for firms to develop and adopt specific mitigation policies and initiatives – for example, climate-positive initiatives and carbon-reduction targets. For the insurance industry, in particular, this means the opportunity to develop frameworks for climate strategy and risk management."
He shared one of QBE's initiatives to help drive sustainable finance, known as Premiums4Good.
"At QBE, we have Premiums4Good, a global initiative that offers customers the option to invest part of their premium in securities with additional social and environmental objectives. This is just one part of our efforts to build solutions and products in emerging areas of concern that were previously unprecedented or not considered."
Having recently assumed the helm of QBE Singapore, Shah discussed several of his priorities at the company, including improving digitisation and fostering innovation.
"We are actively driving digitisation across our own operations to maximise efficiency. This is reflected in how we deliver our solutions to clients and channel partners," he said. "We are also continuously looking to empower, upskill and expose our colleagues to new areas within insurance. Our vision is to continue investing in initiatives that create stability, continuity and overall job satisfaction among our staff."
"I am also a firm believer of driving constant innovation across our products and solutions. Together with our intermediaries, we are actively working towards addressing the needs of our clients' evolving risks and this involves cross-industry initiatives and continuous product development."
Another aspect Shah stressed is instilling a customer-centric mentality among the company's employees.
"As an insurer, we aim to be a strong partner and intermediary for our clients and customers," he said. "It is therefore critical that we also look towards ensuring that our solutions adopt an outside-in approach and are delivered efficiently. This outside-in approach will help us become better partners to our clients through our intermediaries, and ensure we are always a dependable resource for businesses' growth ambitions."
With a new decade upon us, Shah mentioned several predictions for the insurance industry and beyond.
"Technological disruption will continue to play a significant role in redefining insurers' products, services and business models," he said.
"I expect negotiated classes of insurance, to become our key areas of focus, taking centre stage through the year. For us in particular, adopting a combination of rate adjustments with a correcting insurance market along with an increasing need for thought leadership and sound risk management are sound ways to demonstrate our strength in offerings to our clients.
"I fully expect the small to mid-sized segments to take greater interest in risk management and insurance, as global events surrounding climate change, pandemics and geo-political issues are now making corporates uneasy – especially ones that have operations regionally and globally. This is when insurance can demonstrate its duty of care and core capabilities in the corporate insurance segment. All in all, I am confident the insurance industry will play an even greater role for businesses around the world in 2020 and beyond."