Anti-coal petitioners focus on Generali | Insurance Business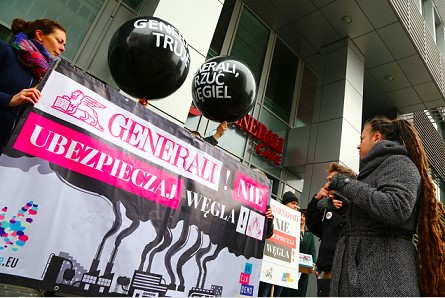 The fight against coal – and one particular insurer – continues.
"It makes no sense to divest from coal but keep insuring coal projects, and we will maintain pressure on the company." These were the words of Unfriend Coal campaign coordinator Lucie Pinson in February after Generali announced its climate change strategy. True enough, there seems to be no letting up from the side of lobby groups – what with three separate petitions, backed by around 90,000 people, urging the Italy-headquartered firm to stop insuring coal projects.
According to Unfriend Coal, Generali provides insurance for Europe's second biggest coal plant (located in Kozienice), as well as for the largest coal power plant under construction in Europe (in Opole). Both are in Poland, whose coal industry is said to be the most polluting in the continent.
Here are the three petitions:
Petition on WeMove.EU – organised by NGOs supporting the Unfriend Coal campaign and signed by over 63,000 individuals who accuse the insurer of putting profits before people and the planet;

Petition organised by Greenpeace Italy – signed by more than 21,400 people who find it contradicting for Generali to insure against natural disasters but at the same time support coal, which causes climate change;

Petition from Polish NGO Akcja Demokracja – signed by at least 5,600 petitioners who believe burning coal in Generali-insured Polish power plants results in pollution-induced respiratory and circulatory conditions.
The WeMove.EU petition, in particular, is calling on Generali to follow the lead set by AXA, Zurich, and SCOR – who have all announced restrictions on underwriting coal.
"With one hand they insure the health of a child who suffers from asthma," it said, referring to Generali. "With the other, they help fund the coal pollution which makes him sick."
Meanwhile members of NGOs WeMove.EU, Akcja Demokracja, 'Development YES - Open Pit Mines NO' Foundation, and Workshop for All Beings yesterday held a protest (pictured) outside Generali's office in Warsaw. The slogan read: "Generali – don't insure coal."
Related stories: