Beazley gives boost to M&A underwriting team | Insurance Business Asia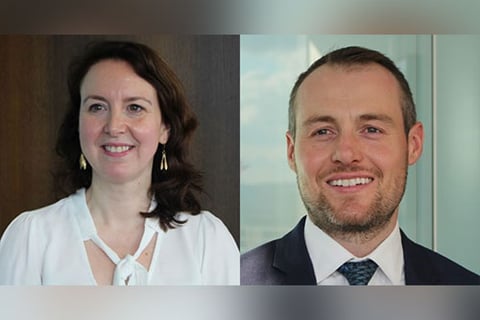 Beazley has expanded its mergers & acquisitions (M&A) team with five underwriting appointments, in a bid to provide better service in key markets and explore new opportunities.
Over the past few months, the specialist insurer has expanded its presence to Germany, Singapore and Denver, Colorado, in addition to its more established locations London and Atlanta, Georgia, it said in a statement.
In London, Lorraine Lloyd-Thomas (pictured left) and Cameron McCoy (pictured right) have joined the firm. Lloyd-Thomas joined from Marsh, where she spent 14 years, most recently as a managing director in Marsh's UK private equity and M&A practice. She is a non-practising solicitor and, according to Beazley, was one of the first to join the M&A insurance market from the legal profession in 2002.
McCoy, meanwhile, is an experienced underwriter who will be responsible for the underwriting of UK and international M&A risks. Prior to joining Beazley, he worked as an M&A underwriter at AIG and previously as a corporate lawyer at leading international firms with a focus on cross border private and public M&A and private equity transactions.
In the US, Melanie Walker has joined Beazley in Atlanta to increase capacity for US domestic risks. She was most recently an associate with Morris, Manning & Martin, LLP where she focused on M&A. She previously worked at an international law firm in New York City, as part of its capital markets practice, where she worked on public and private capital markets transactions, including tender and exchange offers, IPOs, and debt issuances.
In addition, Tim Allen, Beazley's global head of M&A, has moved from London to Denver as the team looks to build its offering across the US mid-market.
Kirsten Windle-Wehrle, meanwhile, has joined the company in Munich, where she underwrites M&A transaction liability business on a global basis. An attorney-at-law, with expertise in M&A, private equity and corporate law, she previously worked at Frankfurt-based commercial law firm Oppenhoff & Partner Rechtsanwälte and Steuerberater, where she was a specialist M&A lawyer.
As part of Beazley's push in the Asia-Pacific region, M&A underwriter Jordan Schwarz will move to Beazley's Singapore hub from London within this year. This is due to increased demand there and in Australia and New Zealand. He will work with Jade Cummings in Singapore who joined Beazley last November from McAfee, LLC, where she served as a legal counsel.
"We have seen increased interest in protecting transactions through insurance and we are expanding the team to meet this rising demand," said Tim Allen, Beazley's global head of M&A. "We are especially pleased some of the top professionals in our business have decided to join Beazley.
"Over the course of four years, we have grown from a team of three underwriters to the current level of 14 M&A professionals. With this expansion, we will have greater expertise and capacity for our clients."