FM Global inaugurates APAC experiential risk management facility | Insurance Business Asia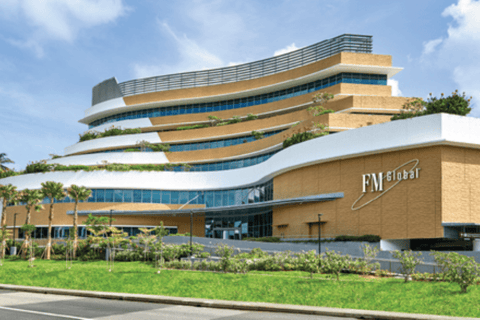 FM Global today opened its first experiential risk management facility in Asia-Pacific, located in Singapore Science Park.
The commercial and industrial property insurer said the facility is designed to meet the complex and diverse needs of clients in Asia-Pacific region, helping them protect their assets and increasing their longer-term resilience.
The SGD$80 million, six-storey facility spans 11,613 square metres and houses multiple interactive simulation labs, learning spaces, and a theatre, which demonstrate how investment in risk improvement can prevent losses and deliver business value. The simulation labs are especially focused on natural hazards, demonstrating how property losses resulting from high-wind events, floods and earthquakes can be prevented by improving an organisation's climate resilience. Other areas include material impact testing, flood simulations, and a virtual warehouse simulation to demonstrate the risks posed by natural hazards.
"The FM Global Centre embodies how businesses can take action to realise the business value of risk improvement and increased resilience," said Malcolm Roberts, FM Global president and chief executive officer. "With the opportunity for first-hand experience in the science of risk management, companies will be empowered to elevate conversations about risk improvement and can more effectively address the challenges of increasing climate risk as well as growth and infrastructure challenges in the region."
The facility also houses FM Global's Asia operations. The company has been present in Asia for 50 years, with Singapore as its regional headquarters for nearly 40 years. Most of FM Global's clients in the region are in the pharmaceuticals, healthcare and technology manufacturing sectors, and it also supports multinational clients that are expanding into Singapore and Asia-Pacific.
"We are a global business with a strong commitment to improving the resilience of our clients in Singapore and across the region to help them better serve their communities and customers," said Tan Hian Hong, operations senior vice president, operations manager, Asia. "Our fundamental belief is that the majority of loss is preventable, and the FM Global Centre reflects this combination of engineering and insurance insight."
FM Global claims that the new centre is one of the most resilient and well-protected buildings in Asia-Pacific, as it is built to FM Approved standards. The centre has Asian-inspired architecture and was developed by Ascendas-Singbridge, with Nakano as main contractor, and Gensler and Cundall as interior designers.