HAL robotic suit could revolutionize insurance | Insurance Business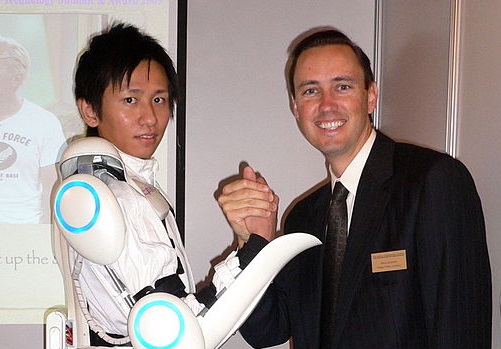 Image by: Steve Jurvetson on Flickr
A powered exoskeleton suit called HAL has been touted by
AIG
to play a vital role in an "insurance revolution".
HAL, which stands for Hybrid Assistive Limb, was developed by Cyberdyne, a Japan-based robotics company. Cyberdyne and AIG Japan have announced that they will team up to develop new insurance products using HAL.
The insurer will utilize the concept of "active care" in its products, in order to prevent accidents and illness. Robert Noddin, CEO of AIG Japan, said that he was inspired to enlist HAL in the effort after he tried it at a demonstration in Tsukuba last year.
The HAL suit uses the wearer's nerve signals to operate the mechanisms that assist body movement. This allows the wearer to walk with ease or lift heavy objects beyond their body's capability.
AIG has formed a "science team" that studies new technologies such as HAL and how these can be used to develop new insurance products around the active care concept. Other examples include using drone technology to identify roofs needing repair, and an anti-fraud scheme based on praxeology, the study of human action.
According to Cyberdyne founder Yoshiyuki Sankai, a professor at the University of Tsukuba, AIG can help promote HAL globally through the insurers' operations in over 100 countries and regions worldwide.
Cyberdyne will also cooperate with Daido Life Insurance, another Japanese company, to develop a health insurance product involving HAL's use in physical therapy.
Related stories:
The robots have landed in Taiwan
Robots are taking over the financial industry
Do the robot! Pepper-model bots to sell insurance in Japan