HSBC Life Hong Kong launches eldercare programme | Insurance Business Asia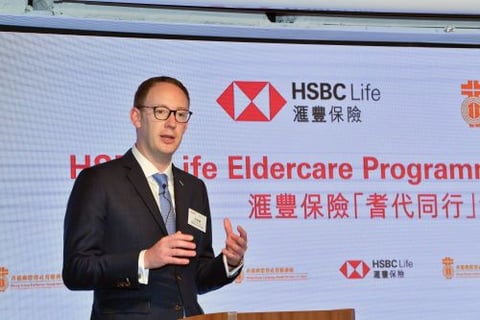 HSBC Life and Hong Kong Lutheran Social Service (HKLSS) have launched the HSBC Life Eldercare Programme to provide elderly people with cognitive health check services for dementia.
The new service relies on automatic retinal image analysis – assessment on the risk of cognitive impairment (ARIA) technology developed by Health View Bioanalytic, a Hong Kong-based healthcare tech firm. According to a statement by HSBC Life, this makes it the first insurer in Hong Kong to bring the innovative screening service to the local community, its customers and employees.
The programme is part of HSBC Life's drive to raise awareness around dementia and encourage people to take preventive measures to relieve the future burden of eldercare.
Read more: Eldercare costs to balloon six-fold in Hong Kong – HSBC
"As revealed recently in the Eldercare Hong Kong research report, the cost of caregiving in Hong Kong society will grow over three-fold to HK$126 billion in 20 years' time," said HSBC Life Hong Kong CEO Edward Moncrieffe (pictured). "Dementia has now become a very common health issue for elderly people in Hong Kong, with prevalence rates of dementia estimated to be at 5-8% among persons aged over 65, and at 20-30% among those aged over 80. The number of people suffering from dementia is also estimated to more than double in 20 years' time. By promoting our collaboration with HKLSS, we hope to help raise awareness of early dementia screening so as to mitigate the impact of dementia on both patients and their caregivers."
Beginning July 19, HSBC Life and HKLSS will apply a three-pronged strategy to engage the community, HSBC customers, and employees.
For the community, HSBC Life will sponsor one ARIA machine, which can benefit up to 3,000 people annually. It will also donate 1,000 sensory toys for elderly people, distributed across five HKLSS elderly centres. These toys are designed to provide cognitive exercises for adults with a view to helping them keep their minds sharp and alert while reducing the risk or delaying the onset of age-related dementia.
For HSBC Life customers, they can enjoy a free ARIA screening test, as well as a free clinical assessment for dementia, free vaccination service, and access to the insurer's eldercare hotline. HSBC Life will also offer ARIA screening to its employees, as well as learning sessions and access to the eldercare hotline.