Manulife Hong Kong's 2020 earnings up 10% despite turbulent year | Insurance Business Asia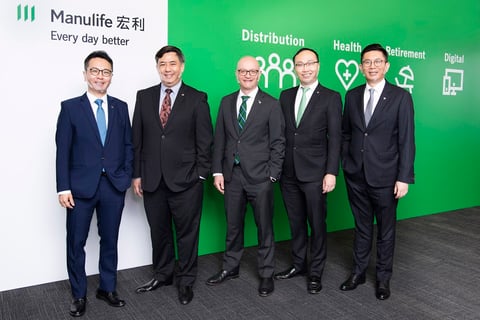 Manulife Hong Kong and Macau has revealed that earnings for the fourth quarter and full year of 2020 both grew to record highs despite significant headwinds caused by the COVID-19 pandemic.
The company reported core earnings of HK$6.3 billion in 2020, up 10% from 2019, and HK$1.8 billion in the fourth quarter 2020, up 10% from the same period of the prior year. Manulife attributed the growth to a strong performance of its agency force.
Annualised premium equivalent (APE) sales totalled HK$6.0 billion in 2020, down 10% from 2019, and HK$1.5 billion in the fourth quarter 2020, down 15% year-on-year. Meanwhile, new business value was at HK$3.6 billion in 2020, down 14% from 2019, and HK$1.0 billion in the fourth quarter, down 15%.
"We delivered record-level core earnings in both reporting periods. Faced with an enormous, year-long challenge, this is a true reflection of resilience of our team and the strength of the Manulife Hong Kong franchise," said Damien Green (pictured centre, with his executive team), Manulife Hong Kong and Macau CEO. "Over the year our team was impeccable in its execution driven by a winning mindset at all times."
Green hailed the performance of the company's agency force as "outstanding". Agency remains the company's main distribution channel, contributing 70% of APE sales in 2020. While total APE decreased by 10% for the year, agency APE sales declined by only 2%, according to Green.
"Our agency APE sales saw a rebound in November and December driven by factors including strong productivity," he added. "Our active recruitment drive also helped us deliver an agency headcount growth of 6% year over year and we finished 2020 with a new record of 10,706 agents."
Laying out plans for 2021, Green said Manulife will be actively recruiting for its agency force, with a long-term goal of double-digit growth in annual headcount. The company has also set aside over HK$230 million to invest in digital tools for customers and agents.
"For 2021, we will continue with our ambitious plans to drive our growth agenda and meet customer needs," Green said. "We'll also continue to deliver new health and retirement solutions and customer services, bearing in mind the increasing protection needs in Hong Kong, Macau and other cities in the Greater Bay Area."