Marsh McLennan declares Q2 2022 results | Insurance Business Asia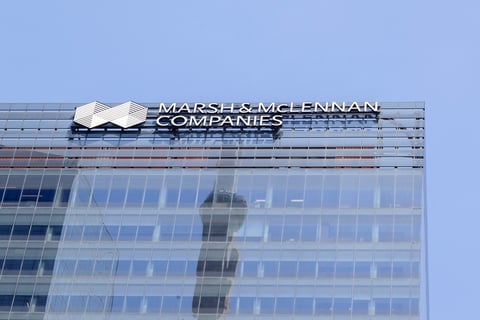 Marsh McLennan has kept strong momentum as it heads into the mid-point of 2022, as the insurance and consulting giant revealed its Q2 financial results.
Consolidated revenue for the group saw a 7% rise year-on-year at US$5.4 billion, slightly lower than Q1's result of US$5.5 billion. The group's revenue increased by 10% on an underlying basis, while its operating income stood at US$1.4 billion, an 11% spike from the prior year. Adjusted operating income rose 8% to US$1.3 billion.
Risk & insurance services
Marsh McLennan's risk and insurance services arm saw revenue increase by 5% on-year to US$3.3 billion in the second quarter. Operating income stood at US$967 million, rising 2%, while its adjusted operating income was US$1 billion, a 9% increase compared to a year ago.
Marsh's revenue was US$2.8 billion, an increase of 9% on an underlying basis. In the US/Canada, underlying revenue rose 10%. On an international basis, underlying revenue growth was at 9%, including 14% growth in Latin America, 11% growth in Asia-Pacific, and 7% growth in EMEA.
Guy Carpenter's revenue in Q2 2022 was US$522 million, 9% higher versus last year on an underlying basis.
Consulting
The group's consulting side posted revenue of US$2.1 billion, which increased by a healthy 10% on both a reported and underlying basis. Operating income was boosted 39% to US$475 million, while adjusted operating income rose 4% to US$369 million.
Mercer saw a revenue increase of 7% on an underlying basis, at US$1.4 billion. On an underlying basis, career revenue of US$205 million saw a 17% spike, while health revenue of US$587 million increased 10%, and wealth revenue of US$597 million rose 1%.
Oliver Wyman's revenue stood at US$695 million, rising by 16% on an underlying basis.
Other items
Additionally, Marsh McLennan said it purchased 3.8 million stock shares for US$600 million in the first half of 2022. The insurance and risk management group also repurchased seven million stock shares for US$1.1 billion.
Marsh McLennan Agency also reported two new acquisitions: Clark Insurance, a leading independent insurance agency in Maine, in June; and CS Insurance Strategies, a full-service insurance agency in Chicago, in July.
Dan Glaser, Marsh McLennan president and CEO, lauded the results in a statement, announcing the company delivered "another strong quarter."
"We generated double-digit underlying growth, margin expansion and solid growth in adjusted EPS with momentum across all our businesses. Our performance reflects continued demand for our advice and solutions and the value we deliver for clients," Glaser said.