MSIG Malaysia to help support underprivileged students | Insurance Business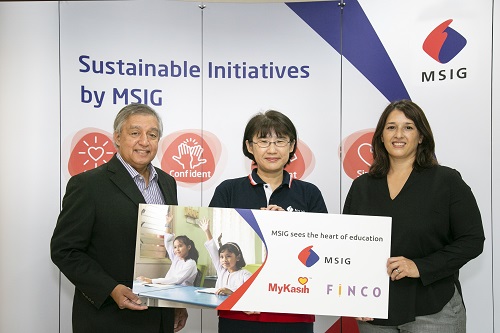 Image: (L-R) Jeffrey Gerard Perera, deputy chairman of MyKasih, Jennifer Hsu, chief operating officer of MSIG Malaysia, and Clare Walker, chief executive officer of FINCO
MSIG Insurance (Malaysia) has teamed up with non-profit organisation MyKasih to provide financial support to 130 underprivileged students form two schools in Sabah and Selangor.
The programme, which branched out of MSIG's involvement with FINCO (Financial Industry Collective Outreach), is focused on children from families in the lower 40% income group, MSIG said in a statement. Student beneficiaries are rendered assistance in the form of cashless bursaries via a contactless MyKasih smartcard. The allowances will be used to purchase books and supplies from the school bookstore, as well as food from the school canteen.
As part of the bursary scheme, each student will also be annually reviewed in terms of overall attendance and academic performance.
"MSIG is delighted to be working with MyKasih and FINCO to help these underprivileged children and their families," said Chua Seck Guan, chief executive officer of MSIG Malaysia. "We are a supporter of UN Sustainable Development Goal 4, which is focused on creating inclusive and equitable educational opportunities for all. We hope that the bursaries will allow these children to focus on their education, rather than worrying about basic provisions which more privileged children take for granted."
The insurer will support all 80 students of SK Babagon Toki in Kota Kinabalu, Sabah, and 50 selected students at SJKC Damansara in Selangor. As part of their 'Love My School' programme, MyKasih will be working with the children and their parents to ensure that the bursaries are spent responsibly.
Aside from the financial contribution, MSIG said that it will work with FINCO and MyKasih to develop meaningful activities at the schools in which MSIG staff can directly participate, sharing their time and experience to create additional value for these schools and students.