QBE Singapore CEO Ronak Shah looks back at challenging year | Insurance Business Asia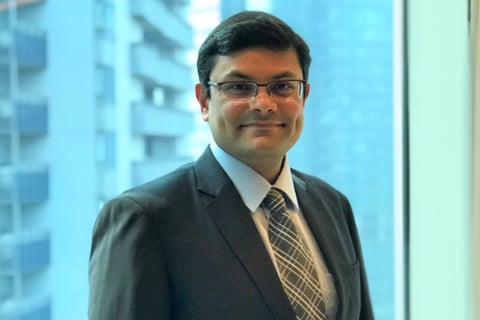 The year 2020 will be remembered for the COVID-19 pandemic that brought about the worst recession to the world economy since the Second World War. Amid the disruption, the coronavirus crisis has also accelerated the insurance industry's adoption of technology to meet the needs of clients.
Insurance Business spoke with Ronak Shah (pictured), CEO of QBE Insurance Singapore, on how the general insurer weathered the challenges of 2020 and what he expects for 2021, with the crisis far from over.
IB: How did QBE navigate the extremely challenging year of 2020?
Shah: Our priority was in ensuring business continuity, while operating on a work-from-home basis. This saw us continuing to meet the needs of our partners and customers via virtual correspondence and mediums, and ensuring our teams had ample touchpoints and interactions between colleagues.
Earlier in the year, as we approached the peak of the pandemic, we realised the need for an emphasis on digitalisation and redirected our focus toward improving our digital offerings to our partners and customers. This was key to us driving more digitalisation efforts than were previously in the pipeline and enabled us to launch digitalised services in direct response to COVID-19.
We developed our Green Despatch Solution, which offers an electronic mode of policy document distribution for customers. It picks up, encrypts and shares documents with customers electronically and shifts the claims and advisory processes online. This in turn speeds up the documentation and claims processes, ensuring our customers receive the assistance they need quickly and seamlessly.
We are proud to have received industry recognition in Singapore and Hong Kong for these digital initiatives.
IB: How does the company's focus on digital figure into its course going forward?
Shah: Plans for a digitalisation roadmap were already underway this year, so for QBE it was more about ramping up delivery in this area for the remainder of 2020.
Going into 2021, investing in technological infrastructure will definitely continue to form part of our focus.
We will continue to rollout digital processes such as online claims processing and policy provision to other lines of our business. The process, which was accelerated by the pandemic, will continue well into 2021 to bolster QBE's standing as a digitalised insurer.
The end objective will support QBE's ambition to ensure an end-to-end digital experience for our customers and business partners across its commoditized business and of equal importance is to ensure that our processes and systems internally continue to be digitalized to drive optimum efficiency, productivity and in turn growth.
IB: What's the single largest challenge that you anticipate for 2021?
Shah: There is no doubt that the COVID-19 pandemic has been the biggest challenge this year, disrupting businesses, lifestyles and upturning our normal way of life. In the coming year, we see that business outlook, decisions around investments and expenditures (personal or otherwise), and the hope of a vaccine continuing to ride on the pandemic's effects.
The biggest challenge will be how to support ourselves with this in mind. For insurers, this includes proactively identifying new areas of risk management, accelerating dynamic digital tools for more seamless interactions and policy transactions with customers and partners, and creating more personalised customer solutions.
It also includes adopting a transformative approach to existing business models to build more modernised and long-term operational processes and solutions to optimise premiums and free up time for more complex work.
Ensuring the right mindset towards digital adoption as well as upskilling our people is critical, and if not carried out correctly, could be detrimental to achieving our objectives.
IB: What are your predictions for the industry as a whole for the year ahead?
Shah: With businesses continuing to feel the effects of the pandemic, the insurance industry will likely be looking at investments in technology to enhance and widen their product solutions, while pinpointing insurance lines that require more specific risk management and solutions.
Paying even more attention to cybersecurity concerns comes in tandem with technology investment. A ramp-up in digital processes and communication leaves businesses more susceptible to cyberattacks. The industry will therefore likely see more need and demand for cybersecurity protection.
Lastly, next year will see the industry becoming more service-oriented, with a huge focus on personalisation of products. With increasingly less face-to-face meetings with customers, personalisation will be all the more crucial.