Self-driving buses coming to three Singapore towns | Insurance Business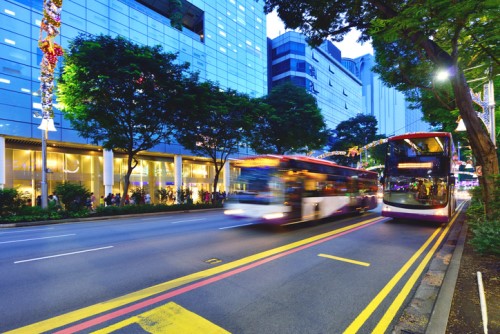 Self-driving buses could be on the roads of three Singaporean towns ­­– Punggol, Tengah, and Jurong Innovation District – within five years.
According to the Coordinating Minister for Infrastructure and Minister for Transport, Khaw Boon Wan, the autonomous buses will complement conventional public buses and service first-last mile connections for residents and workers.
Khaw spoke at the opening of Singapore's first testing centre for autonomous vehicles earlier this week.
"We expect that the autonomous vehicles will greatly enhance the accessibility and connectivity of our public transport system, particularly for the elderly, families with young children and the less mobile," Khaw was quoted as saying by The New Paper, adding that the towns will also be planned with autonomous vehicle-friendly features in mind.
The two-hectare testing centre is located outside Nanyang Technological University (NTU), and cost SGD3.6 million to build. The facility allows companies to research and develop autonomous vehicles and test them in a safe and controlled environment.
"We aim to develop a progressive set of scenarios that (autonomous vehicle) developers need to master before they can be safely deployed in more complex real-life environments," commented Khaw.
The centre was jointly developed by the Land Transport Authority (LTA), NTU, and Jurong Town Corporation.
As the technology of autonomous vehicles continues to develop, the question about how these vehicles will be insured remains.
According to experts, the insurance industry has yet to definitively say who should take responsibility for such vehicles in case they get into accidents.
"Is it the software manufacturer or the car manufacturer at fault in the case of an accident? Those are the issues that are far from resolved." Prof. Subodh Mhaisalkar, the executive director of NTU's Energy Research Institute, told TNP.
Meanwhile, Niels de Boer, the programme director for the Centre of Excellence for Testing and Research of Autonomous Vehicles, added that insurers may be reluctant to insure autonomous vehicles in the early stages of the technology.
"We might be technically ready but... the insurance companies need to be convinced we are ready. Insurance companies are willing to insure vehicles without safety drivers if we can show that the risk and liability are within control and they can come up with the premium for it," de Boer said.
In 2016, the General Insurance Association (GIA) of Singapore announced that it is engaging with the LTA to work out a framework for insuring autonomous vehicles, according to a report by the Straits Times.
Related stories:
Singapore's amended traffic law includes autonomous vehicle guidelines
Driving in Singapore more dangerous than commonly thought
Driverless cabs being tested on Singapore roads