Singapore set to take London's spot as leading financial centre | Insurance Business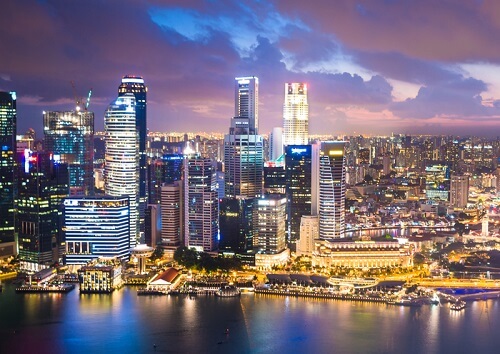 If London loses its standing as a leading global business hub post-Brexit, Singapore is the next in line for the spot.
That is according to a study by PricewaterhouseCoopers, which ranked the Southeast Asian city-state second in the Cities of Opportunity Index, right behind London. The data was gathered before the UK voted to leave the European Union. Singapore is also ahead of Paris and Amsterdam, two cities in Europe which are likely destinations for foreign businesses that decide to leave London.
Singapore's growing standing in the business community is bolstered by its financial and insurance industry, which contributes around 13% of the nation's economy.
According to PwC, better technology, lower taxes, and a more efficient transport and infrastructure system helped Singapore move up the rankings, overtaking even New York City.
Compared to its nearest Asian rival, Hong Kong, Singapore has better scores in several categories such as ease of doing business, infrastructure, and health, safety and security. Hong Kong dropped one spot to ninth, partly due to a decline in the intellectual capital and innovation category.
The tax situation in Singapore is also appealing, as its corporate tax rate of 17% compares favorably to over 30% in France, 35% in the US, and an average of 22.8% for the 35 member-nations of the Organization for Economic Co-operation and Development (OECD).
"An analysis of corporate total tax rate, personal rate, and tax efficiency shows that Singapore, along with Dubai and Hong Kong, have the lowest rates and highest efficiency collectively," said PwC
On the debit side, Singapore has been implementing tighter rules on foreign workers and has been suffering an ongoing pollution problem from forest fires in neighboring Indonesia.
According to
Ravi Menon
, chief of Singapore's central bank, it isn't a foregone conclusion that businesses would transfer operations to Singapore and Hong Kong due to Brexit tarnishing London's appeal as a financial centre. Instead, businesses will set up shop to enter the Asian market.
"London will remain a major financial centre," he said. "At the margin, there will be some shift to other financial centres in Europe."


Related stories:
'No perfect solution' to major talent shortage
Insurance industry 'ripe for change'
Direct purchase policies face slow uptake in Singapore