Climate change activists target Lloyd's with a tipper truck | Insurance Business Asia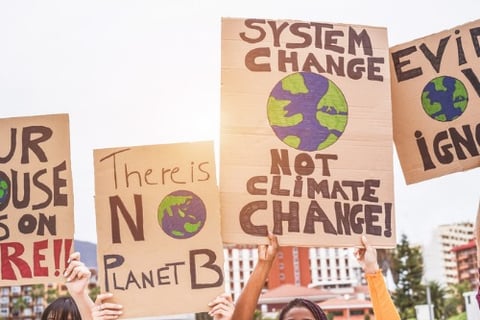 Twelve climate activists from Insurance Rebellion have used a tipper truck to dump a large pile of fake coal at Lloyd's headquarters. Police have arrested two people dressed as builders after two metres cubed of black rubble was used to block the main entrance to 1 Lime Street, London.
This is not the first climate-orientated protest that has targeted Lloyd's and, in a Press release, Harriet (28) from Insurance Rebellion, said that every day the world-leading insurance marketplace continues to insure fossil fuel projects, is a step in the direction of climate breakdown.
"They are complicit in the destruction of our planet, causing millions of people's homes to be flooded, burnt to the ground in wildfires, and reclaimed by rising sea levels," she said. "Fossil fuel companies can't run without insurance, so let's stop insuring them."
The dumped rubble draws attention to Lloyd's support for projects including coal mines, such as the controversial Adani Carmichael mega-mine in Australia. Protesters placed a #Stop Adani sign next to the "coal". The Carmichael mine established the infrastructure required to unlock the Galilee Basin, one of the largest untapped coal reserves on Earth, which is reported to pave the way for at least eight more coal mines.
While the 10 largest Lloyd's of London insurers have ruled out underwriting the controversial Adani Carmichael coal mine, Lloyd's has avoided putting in policy that would exclude other insurers in its marketplace insuring the mine. The marketplace is coming under increasing pressure to stop its underwriting of fossil fuel projects from several groups, including scientists and climate protestors due to its scale as Lloyd's is thought to insure around 40% of the global energy market, a large part of which is fossil fuels.
Hayley Sestokas an Australian organiser with Frontline Action on Coal said: "Adani is building its mine on stolen land. The Wangan and Jagalingou people have said 'no' to Adani four times. Australia is already the world's biggest exporter of coal. If the Galilee Basin is opened up, this would double our output at a time when the world desperately needs to move away from coal to curb runaway climate change."
Sestokas stated that this is why people from all over Australia are putting themselves on the frontline to resist the building of the mine and that Lloyd's urgently needs to stop insuring this project.
Insurance Rebellion's stated demands to Lloyd's of London are to immediately and forever:
1. "Tell the truth about who you insure and the impact of insuring and/or reinsuring fossil fuels and biomass, which enables climate destruction, puts profit over people, and puts everything we love at risk."
2. "Stop insuring and/or reinsuring any and all fossil fuel and biomass companies and projects, including those that already exist, are expanding, are new, or are planned."
3. "Exclude all fossil fuel and biomass companies from syndicate level assets, Members' Funds, and the Central Fund of Lloyd's."
Protestor John (41), who took part in the protest, stated that Lloyd's of London continues to insure the world's biggest fossil fuel projects and refuses, even after many polite requests, to rule out underwriting even the most controversial projects like Adani's mega coal mine in Australia or the West Cumbria coal mine in the UK.
He said: "We're here today because we're not willing to accept any more excuses, delays or half measures."