Surer partners with Zurich to digitalise marine cargo product | Insurance Business Asia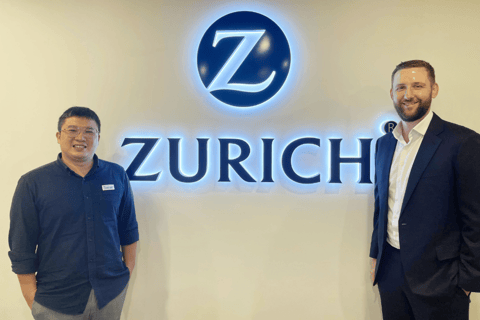 General insurer Zurich Insurance has partnered with Singapore insurtech Surer for the latter's brokers and intermediary users to gain access to Zurich's fully digital platform, Zurich Swift Marine Cargo. Under this integration, Surer's brokers and intermediary users can more easily manage their clients' marine cargo requirements.
Using Zurich Swift Marine Cargo, Surer's operators can obtain quotes instantly, as well as bind covers and issue certificates directly via Surer's own platform. Zurich Singapore head of marine Harry Taylor (pictured above right) described it as a simple and reliable online platform that allows intermediaries to administer cargo insurance requirements "anytime, anywhere."
The insurer also recently partnered with MYAirline, a low-cost Malaysian airliner, to provide travel insurance packages for its passengers.
A boost to Surer's marine cargo product
"We're delighted to be deepening our partnership with Surer to support their customers with market leading services and fantastic user experiences, and essentially serve on our common commitment to make marine business more efficient for more insurance brokers and intermediaries," Taylor said in a press release.
Surer co-founder Derren Teo (pictured above left) said that along with maid and motor insurance, marine cargo is one of the top three products by volume being transacted on its platform.
"Zurich is the perfect insurer to partner with, given the company's expertise, technical agility and more importantly, a shared vision to help insurance brokers and intermediaries manage their business more effectively through technology," Teo said.
Zurich and Surer will continue the partnership beyond the Zurich Swift Marine Cargo platform, as both companies will work together on optimizing Surer's other product lines.
What are your thoughts on this story? Please feel free to share your comments below.