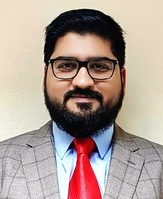 Rohbaan Ahmad, Risk Management Services (Pvt) Ltd
Vice President Property & Casualty
Risk Management Services (Pvt) Ltd
Age: 31
Drawing on his experience from abroad, Rohbaan Ahmad has already marked himself out as a prominent talent in Pakistan's insurance sector. Serving as Vice President of Property & Casualty at Risk Management Services, Ahmad wants to help develop the wider insurance sector within Pakistan, and develop best practice behaviours that stand alongside other international standards.
Drawing in new talent is also a key focus for Ahmad, as is helping current talent in the industry. Ahmad has helped numerous individuals in attaining their professional qualifications; while teaching at the Pakistan Insurance Institute he has aimed to aid students in their understanding, and more importantly encourages them to take on more challenges. He has also added a more practical approach to his teaching style, leading to a more engaging classroom, rather than one focused on theory.
Ahmad is a strong believer that insurance is vital for a country's entrepreneurial spirit, and in turn its wider growth. Looking ahead, he wants to pay a key role in the future growth of the Pakistani insurance sector.