Jump to winners | Jump to methodology | View PDF
DRIVING INNOVATION IN A DIFFICULT YEAR
In a year of unprecedented change around the world, the insurance industry has been hard at work developing a slew of new innovations. From insurance products focused on airline bookings to AI-based underwriting capabilities and the use of drones to assess property damage, companies across the industry have risen to the challenge of finding new ways to do business.
For some companies, the COVID-19 pandemic accelerated technological innovations already underway. For others, it propelled new products – before 2020, who would have foreseen the need for 'COVID cover' insurance to protect consumers or airline insurance in case a traveller contracts a virus during a journey?

There were also major strides in the adoption of AI and machine learning to assist in the underwriting of insurance products, from driver behaviour data for transport cover to personalised risk profiles for health insurance.

The 24 companies that made Insurance Business Asia's inaugural 5-Star Insurance Innovators list have all acknowledged the difficulties facing the insurance industry and created new ways to overcome them, often building their business as a result.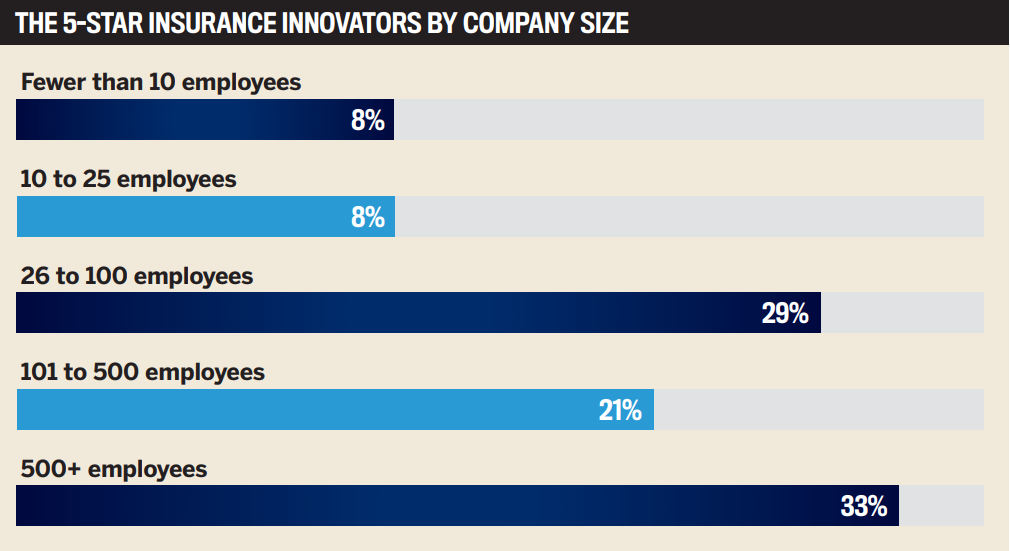 Responding to the pandemic
The ongoing strain of COVID-19 has been at the forefront of the challenges confronting the industry over the past year.

"Beginning in February of 2020, everything in the insurance industry froze as insurers had to pivot to respond to a slew of new issues regarding not just their product offerings, such as workers' insurance, travel, and health insurance plans, but also working from home and the larger issue of the economic impacts of the pandemic," says Manuel San Miguel, co-founder and CEO of Ignatica.

Andrew Fluitsma, CEO of Honan Insurance Group, agrees that "the COVID-19 pandemic was something we have not seen in our lifetimes. Total shutdown and forced working-from-home conditions had an immediate impact on our team, our clients and our communities. It created shortages and delays in logistics, communications, data and information sharing."

Honan turned to technology to drive engagement across its global staff, and also sought ideas from outside the insurance industry to prompt change.

"Instead of talking monthly or bi-monthly, conversations and presentations could be done weekly," Fluitsma says. "Bi-weekly company-wide town halls made the business smaller and bought staff closer together, keeping the whole business up to date."
This not only built internal engagement, but also contributed to a 25% rise in the brokerage's business.

"By leading the way with new tools, systems and approaches to work, it allows us to drive new solutions to clients and ensure we continue to add value and efficiencies to their businesses," Fluitsma says. "We consistently see our innovations drive efficiencies through data sharing and deliver insights that aid business decisions through analytics and reporting."

Allianz Partners responded to the pandemic by launching a new product, COVID Travel Protection, to support airline travellers. Funded by the airlines, it covered medical and other costs for customers who tested positive for the virus or had to quarantine.

"Considerable success was achieved through supporting Olympic athletes with the product whilst flying on [Japan Airlines] to compete at the Olympic Games," says Allianz Partners' Ben Elliott‑Yates.

Other companies also introduced coverage for COVID-19. Cover Growth worked with Skyscanner to provide COVID-19 insurance with no exclusions, while Digit Insurance created a group COVID-19 product designed to insure workers across several industries, including entertainment, production houses, financial institutions and hospitals.

According to Tanya Marwah, brand marketing head at Digit Insurance, the coverage responded to the most affected sections of the Indian economy that were not able to function fully due to virus concerns and has "covered over 2.5 million lives and 24,000 groups".

Other companies sought to accelerate the industry's transition into a digital world. Charlotte Lau, director of market development for Asia at Crawford & Company says the pandemic forced the global claims manager to think creatively about using new technologies.

"Our talented people leverage many technologies and innovations to help make decisions and guide each claim along to resolution, all ensuring that they can work off-site and meet client expectations," Lau says. "With the pandemic imposing restrictions and forcing face-to-face contact to a minimum, we have leveraged our unique claims management solutions to ensure we are still delivering the same quality of service.

"The changes other companies have made have focused too on providing a remote service. However, with our proprietary remote claims management tools, unique managed repair network and groundbreaking BI tools, Crawford has ensured that it is head and shoulders above the rest in its pandemic response."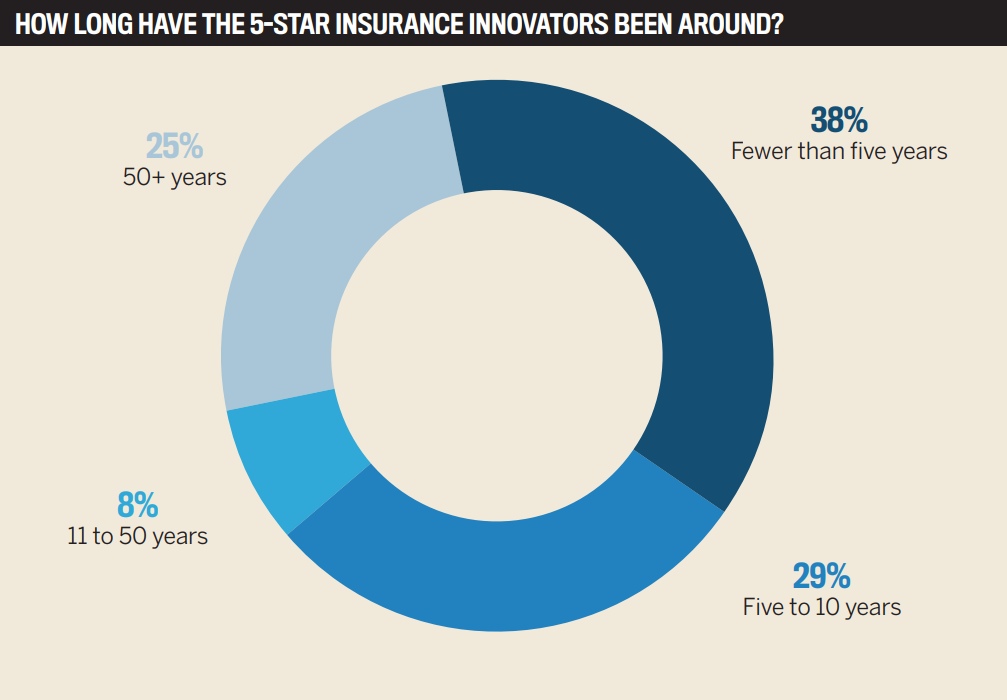 The wave of the future
Insurance companies also continue to challenge the status quo on other major social and economic issues such as climate change. Swiss Re Corporate Solutions was named a 5-Star Insurance Innovator for its Climate Risk Solutions for Corporates service, which addresses the impact of extreme weather and climate events.

Alex Pui, Swiss Re's APAC nat cat and sustainability head, says clients from the UK, Japan, Singapore and Australia were each faced with a range of physical climate risk challenges, from floods and storms to bushfires. Swiss Re's Climate Risk Solutions for Corporates enabled customers to determine how they could enhance their business strategy for the long term through actionable business insights.

"Our solution leverages the collective internal group risk knowledge from negotiating climate risk for over 100 years and is delivered through a combination of state-of-the-art technology/tools, as well as through the sharing of risk insights by our climate and industry experts," Pui says. "As there is a need to work with large data sets, we applied creative use of data to host on an intuitive tool platform, allowing customers to assess their risk exposures in the long term."

Technology is set to usher in a range of other advancements – including the use of AI, deep learning and robotics – as insurance organisations negotiate a post-COVID world throughout the 2020s. And it's already propelling many of the key advances put forth by the 5-Star Insurance Innovators.
As part of its mission to reduce road deaths in Cambodia, DRVR created a smartphone app to assess driver behaviour for fleet managers, as well as Internet of Things sensors and devices across its platforms for cold storage and fuel monitoring.

Howden Group launched a new data, digital and analytics division, HX Asia, that is providing analytics-led solutions, including information dashboards, to assist with medical claims management.

And global firm Merlynn is using AI and predictive analytics to monitor and analyse financial transactions for money laundering risk. Its Alert Decision Engine analyses accounts in real time to create alerts and screen false positives. This reduces the risk of non-compliance and financial crimes, while also increasing the efficiency of the compliance professionals conducting the checks.

Fluitsma highlights the importance of using technology to aid decision-making in insurance.

"The insurance industry is very data-heavy, and so it is vital to ensure there are innovative tools available to provide insights to staff and clients in order to aid with decision-making," he says. "System interoperability drives collaboration and reduces data duplication. This is an area we have focused on in recent years, and it allows for strong differentiation to ensure clients understand the value a broker can deliver."
Aditya Birla Health Insurance
AIA Group
Allianz Partners
Cover Genius
CoverGo
Democrance
DigiSure
Digit Insurance
DRVR
Etiqa Insurance
Honan Insurance Group
Howden Broking Group
Ignatica
Lifepal
Merlynn
MyDoc
Smartchoice.pk
Symbo
YAS MicroInsurance
Yoors