Stephen Catlin: Embracing a bold new world | Insurance Business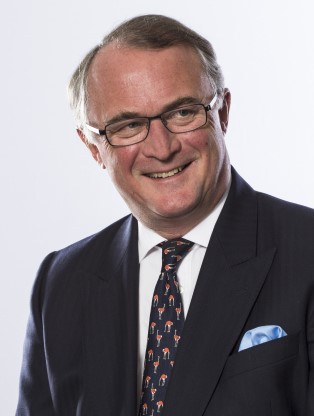 Stephen Catlin's status as an icon of the insurance industry is widely recognised, so much so that, in 2015, the prestigious International Insurance Society inducted Catlin into its own Insurance Hall of Fame, in recognition of his long-standing leadership in the global property/casualty insurance industry.
His career in the industry began in London in 1973. His initial foray into insurance involved no pre-planning. "My father was a doctor and he wanted me to go into medicine," Catlin says. "It's a complete joke this now, but I thought he worked too hard, so I didn't want to do that."
As a compromise, Catlin agreed to pursue studies in dentistry, but his heart wasn't in it. "I wasn't particularly fond of academia at the time, and I didn't get the required grades to get into dental school," he recalls. "I decided I didn't want to do a degree just for the hell of it. I'd rather get going."
Soon after, Catlin began a role at BL Evens & Others at Lloyd's of London. In his early days he received advice from a mentor that's served him well to this day. "He used to say to me, 'Keep your eyes and your ears open and your mouth shut'. In other words, listen and be aware of what's going on around you.
"I think a lot of people miss out in life because they don't keep their eyes and ears open. You've got two eyes, two ears and one mouth. Use them proportionately."
Starting Catlin
In 1984, Catlin founded Catlin Underwriting Agencies. "I'd been approached a couple of times to do a start-up," he says. "The more I looked at it, the more I thought, 'You know what? Maybe I should give this a go'. Now, I have to tell you I took that decision at the ripe old age of 29. I was just 30 when we set the company up. Looking back on it, I must've been completely barking mad!"
But Catlin's decision to establish his own underwriting agency marked the beginning of a decades-long success story. Over 30 years the Catlin Group grew from a small managing agency into a multinational insurance holding company, with a presence in more than 50 cities and 2,300 employees working in 25 countries.
Catlin's global expansion plans constituted somewhat of a pioneering endeavour. So why did he see international expansion as an important strategic move before it became popular among his contemporaries? He says: "... if you wanted to have a global book of business, sitting in London waiting for people to come in to see you wasn't going to happen over time … More and more business would be placed locally in the local markets, and therefore if you wanted to write that business and not just see the big-ticket business, you'd have to have a presence in the local markets."
Early on in executing the strategy, there were some challenging times. "We started an office in Houston and one in Singapore. Frankly, we got them both wrong … and had to start again two years later," Catlin says.
He and Paul Brand (now chief underwriting officer at
XL Catlin
) took the lessons learned from that experience and decided to leverage them. "We then spent 15 years building a global business, which wasn't easy, and we had a fair amount of criticism from most people in the marketplace for doing it … and it was quite difficult, as a public company, to be spending quite a lot of our earnings on organic growth. It doesn't always please shareholders. They want to see the money today, not tomorrow."
But Catlin and Brand were committed to the concept. "We thought it was the way the market was going and how the markets were going to behave in the future … I think it's interesting the amount of people who say, 'Well, I wish I'd done that'; 'I wish I'd done what Catlin had done'; I wish I'd seen what he'd seen'."
The next chapter
On 9 January this year, it was announced that the Catlin Group had been acquired by XL Group, an Ireland-based global insurance company. That transaction was completed on 1 May, and Catlin is now executive deputy chairman of XL Group plc.
Talking about times ahead, Catlin stresses the importance of adapting to rapid change. "Think about the change that [iPads and tablets have] brought about in our lives. You no longer spend two and a half hours arguing pointless facts at a dinner party, because somebody will get the fact within 30 seconds … The way we transact at business level, but also at a personal level … is very different to what it was, and people who don't adapt to that change get left behind, whether you're in commerce or in industry."
Catlin mentions one of the greatest emerging risks – cyber. "Cyber brings with it challenges though," he says. "I've been misquoted a couple of times as saying I don't think we should do it. I haven't said that at all. I've said I think we should, as an industry, be writing cyber risk, but that we have to recognise what we can and cannot do, and if you have a total global systemic failure caused by the Internet going down worldwide, that type of loss is beyond the capability of the insurance industry to pay because it's too big.
"We need to work with government to make certain that the government understands what we can do and what we can't do for them … I think we've got to start thinking very much on the front foot about what life is going to be like in the next 10–20 years, where are the risks going to be, and how we can help our clients manage those risks."
Catlin expects the concept of 'Uberisation' to become widespread within the service industries, and thinks it's important for the insurance industry to be ready to address the threat posed.
"In other words, you'll get an outside player coming in who has got nothing to do with insurance whatsoever at the moment, who will say, 'I can do this more efficiently and I'm going to join the party on a more efficient basis'. I think the next 10 years will show fundamental change on that front."