Travel insurance and COVID-19 – how Singaporeans can get the most out of their policies | Insurance Business Asia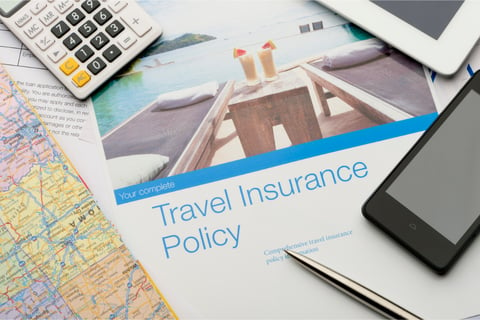 With much of the world reopening borders and easing travel requirements for vaccinated visitors, there is also a huge surge in travel-thirsty Singaporeans heading overseas, with the figures reaching pre-pandemic levels in some countries.
Recent data gathered by the South China Morning Post (SCMP) from the global travel marketplace Booking.com revealed that the number of Singaporeans who travelled to Australia during the June school holidays has hit the level it was before COVID-19 struck. Year-on-year figures from industry giant TripAdvisor, meanwhile, showed a 13-fold rise in Singaporeans booking international travel.
The news outlet added that outbound travellers in December, which coincided with the city-state's year-end school holidays, reached 132,771 but dropped to 85,117 in January before increasing again to 208,609 "when borders were fully reopened with Covid measures dropped." May figures – the latest government data available – showed that there were 311,306 Singaporean who went abroad.
According to SCMP, the current demand for international flights is so high that national carrier Singapore Airlines and its budget subsidiary Scoot are adding more flight routes, including 21 weekly flights to Los Angeles, up from the usual 17. The company also told the news outlet that it was expecting capacity to hit more than 80% of pre-pandemic levels by December.
The huge spark of interest in international travel does not come as a surprise given the relaxation of border rules. But the world is still in the midst of a pandemic and given the situation, Singaporeans planning on travelling overseas have additional factors to consider, including airline requirements, COVID-19 regulations in transit and destination countries, and arrangements for their safe return. As a result, securing travel insurance has never been more important in the current environment, according to industry insiders.
Read more: 4 out of 5 Singaporeans to buy travel insurance in 2022
How does travel insurance work in Singapore?
Singaporeans can purchase different forms of travel insurance policies depending on how often they take to the skies and who they are travelling with. Here are the common types of plans travellers can access, according to the comparison website MoneySmart SG.
Single-trip plans
This type of policy is best suited for those taking only one or two trips per year. Single-trip insurance plans are designed for individuals and those travelling with their families for – as the name suggests – a single trip or holiday. Coverage usually lasts up to 180 days.
"It makes more economic sense for those who don't travel very often, plus, single-trip insurance plans can be purchased easily online, with less time in planning and consideration as compared to annual multi-trip plans," MoneySmart explained in a blog on its website. "But on the flip side, you'll face the hassle of getting a new travel insurance policy every time you go on an overseas trip. For some, a single-trip insurance plan can get relatively expensive if the trips are short."
Annual multi-trip plans
Also known as multi-trip travel insurance plans, these are designed for those who go on overseas trips several times a year. This type of policy covers all trips in a span of 12 months.
"It is a good option if you're a frequent traveller who intends to make many long trips or short weekend getaways abroad in a year," the comparison website noted.
Individual plans
Policies suit both the occasional and frequent solo traveller as these can be purchased either as a single- or multi-trip plan.
Family plans
These cover all family members taking the trip, including parents, spouses, children, and grandchildren.
"You may want to consider purchasing a family travel insurance plan if you are travelling with your family and thinking of getting a single policy for your family members who are travelling with you, as getting a family travel insurance plan can be more cost-effective than getting separate single trip plans for each family member," MoneySmart suggested. "What if you and your loved ones are travelling very often as a family? Some travel insurers also offer annual multi-trip travel insurance for families who are frequent travellers."
Read more: Helping clients amidst travel industry collapse is not for the faint of heart
What does travel insurance cover?
Most travel insurance policies in Singapore are designed to cover costs incurred from health-related emergencies and disruptions to the travel itinerary up to a certain. These include:
Medical treatment
Medical evacuation and repatriation
Flight delays and cancellation
Delayed or lost luggage
Travel agency bust
Credit card fraud
According to MoneySmart, some travel insurance plans pay out if the policyholder gets kidnapped overseas.
But there are also exclusions. Most policies do not cover pre-existing conditions, injuries sustained while participating in extreme sports or sports played in a professional or competitive capacity, and illegal activities that result in a conviction.
"Cheap does not equal good," the comparison website pointed out. "Be sure to compare different types of travel insurance to see which suits your needs best."
Does travel insurance provide COVID-19-related cover?
Almost all travel insurance providers in Singapore have added COVID-19-related coverage to their policies. The level of protection offered, however, varies between insurers. Here are some of the most common coronavirus-related policy features.
Overseas COVID-19 diagnosis quarantine allowance: Cash benefit paid out for each consecutive day – up to 14 days – the policyholder spends in quarantine overseas due to COVID-19 infection.
Overseas hospital cash: Cash benefit paid out for each day – up to two weeks – if the policyholder is hospitalised overseas due to COVID-19 infection.
Medical coverage: This pays out for medical costs if the policyholder is diagnosed with COVID-19 while travelling abroad.
Trip cancellation or postponement: This provides cash benefit – up to a certain amount – if a trip needs to be cut short, cancelled, or postponed because the policyholder, their immediate family member, or travelling companion contracts COVID-19.
Emergency medical evacuation and repatriation: This pays out for emergency transportation allowance to a medical facility for treatment if the traveller is diagnosed with COVID-19 and/or sustained a serious injury due to coronavirus while overseas.
Read more: NTUC Income launches hourly travel insurance
To help travellers find out which plans suit their needs, MoneySmart compiled seven of the top travel insurers in the city-state, along with the type of coronavirus-related protection they provide. The details below are for a 15-day trip to Canada. All figures are up to date as of June 2022.
Travel insurance

Premiums

COVID-19 medical expenses

COVID-19 overseas hospital cash

COVID-19 overseas quarantine allowance

COVID-19 trip cancellation

S$158

S$100,000

—

S$50/day (14 days)

Up to S$2,500

S$179

S$1,000,000

—

None

Up to S$15,000

S$153

S$75,000

S$1,000 max

$350 max

Up to S$1,000

FWD

S$124

S$200,000

S$100 per day up to 14 days

$50/day (max 14 days)

Up to S$5,000

NTUC Income

S$444

S$150,000

—

S$100/night

Up to S$2,000

S$201

S$100,000

S$50/day

S$700 max

(separate from overseas quarantine allowance)

S$50/day

S$700 max

(separate from overseas hospital cash)

Up to S$2,000

Starr

S$129

S$100,000

—

—

Up to S$1,000
Source: MoneySmart.sg
How can Singaporeans get the most out of their travel insurance?
To help Singaporean holiday-goers get the most out of their travel insurance, MoneySmart laid down the most common mistakes travellers make and gave practical tips on how to avoid them. Here are five travel insurance traps that travellers from Singapore need to steer clear of.
1. Buying the most "convenient" travel insurance plans
The comparison website advised travellers against purchasing the first policy that they chance upon the internet as these may not always suit their travel needs. Essential items to consider include medical coverage and loss of personal belongings.
"It is important to read the details of the coverage provided to see if they are adequate for your needs or to cover the risks of the destination you're travelling to," MoneySmart explained.
2. Buying travel insurance at the last minute
While "better late than never" can also apply to getting travel coverage, there are several benefits to taking out insurance at the earliest possible time.
For those who tend to buy travel insurance "when waiting to board your flight or while making your way to the airport," according to MoneySmart, "you should be aware that some of the benefits of the travel insurance are applicable – natural disasters, airline strike, tour agency bankruptcy – if you buy travel insurance ahead of your trip."
3. Not buying travel insurance for the entire length of your trip
The comparison website recommended that travellers purchase insurance not only for the days they spend in an overseas destination but also for the time they spend while on flights.
"In the event of baggage delays, loss or damage, or overbooking of flights, you would be able to make a claim," it added. "For long haul trips, do remember to cater for the [plus-one] or [plus-two days] that it takes for your flight to reach Singapore."
4. Not reading the travel insurance policy
Not all policies are created the same, that is why policyholders should carefully read and understand their policy documents, so they can be aware of what is covered and excluded, and what must be done to file a claim.
5. Thinking all travel policies are "one size fits all"
"If your holiday includes adventurous elements like skydiving or scuba diving, check to ensure that the travel insurance you are considering covers these activities," MoneySmart suggested. "Or check to ensure that adventurous activities are not excluded from the claims. If your holiday involves golfing, a cover for golfing equipment and hole-in-one should come in handy."