Singapore's top car insurance providers in 2022 | Insurance Business Asia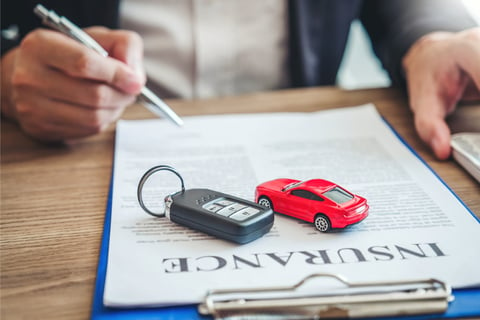 Everyone who wishes to drive a motor vehicle in Singapore is required to carry car insurance. Failure to do so brings several legal implications. Anyone caught driving without valid auto coverage can receive a penalty of up to S$1,000 and imprisonment of up to three months. They may also be barred from holding or obtaining a driving license for at least 12 months.
But legal consequences aside, getting car insurance also reaps a lot of benefits. Chief among these is the financial protection it provides once an accident occurs.
Read more: Despite more car accidents in Singapore, insurance claims are down
How does car insurance work in Singapore?
There are three main types of car insurance plans that drivers in Singapore can choose from:
1. Third Party Only (TPO)
This is the most basic form of coverage and comes with the lowest premiums. Although TPO is enough to meet Singapore's basic legal requirements on auto coverage, this type of policy provides very limited protection.
As the name suggests, TPO covers property damage or bodily injury caused to a third party and only if the driver is at fault. It also does not protect the policyholder or their vehicle or passengers. TPO policies are recommended for people who rarely use their vehicles or own old cars, with expiring certificates of entitlement (COE).
2. Third Party, Fire & Theft (TPFT)
Although it may seem self-explanatory, the policy's name does not say it all. Just like TPO, TPFT pays out for damages caused to a third party, but it also covers damages that the driver incurs. Losses resulting from fire and theft are likewise covered, but so is vandalism. All these additional coverages raise premium prices.
3. Comprehensive coverage
This type of policy offers the broadest protection, which includes events covered by both TPO and TPFT plans, albeit at a higher premium. Comprehensive plans also protect against damages caused by natural or man-made disasters and provide accident benefits for the driver and their passengers. Banks typically require those taking out a car loan to carry comprehensive car insurance.
Apart from these three kinds of coverages, Singapore drivers can access a range of additional protection at an extra cost. These include coverage against flooding, windstorm, riots, and civil unrest, passenger liability, windscreen insurance, and no claim discount (NCD) protection.
Read more: Self-driving cars to drastically cut Singapore's parking space needs
What do Singapore drivers need to consider when taking out car insurance?
To find out which car insurance policy that best fits their requirements, motorists in Singapore need to consider a range of factors. Some insurance companies even allow drivers to tweak certain elements of their plan, allowing them to access the right coverage. Here are some of these factors:
Excess: A higher excess means cheaper premiums, but drivers must make sure they set an amount that they can afford.
Named drivers: Policyholders are allowed to add drivers, including their spouse and children, to their policies, which has a corresponding impact on premiums. For those, who do not need to cover a younger driver, they can raise the age limit, for example to 30, 35, or 40 years, so they can lower their rates.
Choice of workshops: Car insurance companies have a list of authorised workshops to carry out repairs. Drivers can opt to work with these firms to slash premiums.
Loss of use: Motorists can access this benefit, which provides a mode of transport while their vehicles are under repair. This coverage is suitable for people whose livelihood depends on having their cars. Getting this benefit can likewise impact premium prices.
Overseas coverage: Suitable for those who frequently drive to Malaysia, this coverage is typically purchased as an add-on.
NCD protector: Drivers who have achieved high NCD can benefit from this optional coverage, which prevents a rare claim from tarnishing their NCD record.
Roadside assistance: Some auto policies provide complimentary round-the-clock assistance in the event of a car accident or breakdown, while others offer this benefit as an add-on.
Read more: Singapore's lifting of car warranty restrictions to lower insurance costs
How much does car insurance cost in Singapore?
Because auto insurance premiums are calculated on a case-by-case basis, it is often difficult to give an accurate amount. Personal finance comparison website MoneySmart.sg estimates the figure to be between S$700 and $S1,000, depending on a range of criteria. The table below sums up how these factors affect premium prices.
Factor

Impact on premiums

Age

Younger drivers and those who have reached senior age tend to have more expensive car insurance
Motorists aged 30 to 65 usually get cheaper premiums

Gender

Car insurers often view women as safer drivers compared to men, thus charging them lower rates

Driving experience

Drivers with less than four years of experience are often charged higher premiums

Occupation

Certain occupations are deemed high risk due to heavy car usage, which pushes up premium prices

Marital status

Some insurance companies see married individuals are more responsible drivers, resulting in lower rates for this demographic

Car make and model

Basic car models are charged with cheaper premiums
Luxury vehicles and certain SUVs come with higher rates as their parts are more costly to replace

Claims history

Drivers with fewer or no claims in the past are entitled to lower premiums

Car usage

The less a person drives, the cheaper the premiums as the likelihood of accidents are also lower
What do the top car insurance policies in Singapore cover?
There are around 30 insurance companies across Singapore offering car coverage, according to the latest data from One Motoring, a motoring information and digital services provider operated by the government's Land Transport Authority (LTA).
To find out which of these offers the best protection, the personal finance comparison website SingSaver analysed the auto insurance policies of several providers. These are the ones that came up on top. The rates in the table are based on a 35-year-old married male driver of a Mazda 3 1.6 (A) registered in 2018. The hypothetical motorist also has a clean driving record, five years of driving experience, and 50% NCD. Prices quoted are before the discounts offered by the providers and are up to date as of May 2022. The list is arranged alphabetically.
Insurer

Best for

Key features

Indicative annual premiums

Collision-related accident protection

Low premiums for collision-related accidents
Up to S$5,000 third-party property damage coverage
Unlimited coverage for third-party death or injury
Premium discounts for policies limiting named drivers to those aged above 30, 35, or 40 years

S$825.24

Value for money

Covers third-party property damage, injury, or death for all plans
Covers legal representation and defense for all plans
Lifetime warranty on repairs
Complimentary courtesy car when policyholder's vehicle is being repaired
Replacement car if vehicle is less than two years old and damaged beyond repair
24/7 complimentary roadside assistance
Flexible excess

S$854.17

Etiqa

Young and demerit-free drivers

Quick processing of application and claims (claims can be paid out in 30 minutes)
S$50 per day allowance if car is being repaired
Adjustable excess for better pricing
Low age limit (24) for young and inexperienced drivers
5% additional discount for demerit-free drivers in the past three years
Free child seat coverage of up to S$300
Affordable premiums thanks to ongoing promos

S$1,161.34

FWD

Getting 50% NCD for life and overseas coverage

Policies can be purchased online
Lifetime 50% NCD guarantee
Insures anyone driving the vehicle (not applicable for Classic Plan unless drivers are added)
Courtesy car provided up to three months if vehicle is written off or permanently lost
Up to S$80 daily transport allowance for up to 10 days while policyholder's car is being repaired

S$918.68

HLAS - Car Protect360

Drivers with preferred workshops

Flexibility to choose between preferred car workshop or HLAS' authorised workshops, with reduced excess and premiums
24/7 hours roadside assistance
25% discount plus a choice of free car servicing, air-con treatment, or paint protection

S$1,336.15

MSIG

Affordable premiums

More than 30 authorised workshops
Car loan protection of S$100,000 in the event of death (MotorMax Plus policy only)
24-hour roadside assistance for towing, lockout, or minor roadside repairs
Replacement car if policyholder's vehicle becomes irreparable after an accident

S$825.24

NTUC Income - Drivo

Emergency assistance team and free NCD protector

Roadside assistance, with Orange Force riders arriving at accident scenes to provide help anytime and anywhere
24/7 referral services for road and medical assistance in West Malaysia
S$50 per day transport allowance from the first day of repair, up to a maximum of seven days
More than 30 authorised workshops
Free NCD protector granted automatically upon renewal if policyholder has 50% NCD in the last two years

S$1,004.13

Singlife with Aviva

Promotional rates and young drivers

Low age limit (24) for young and inexperienced drivers
More than 30 authorised workshops
NCD remains intact with no upfront excess payment required if car is damaged not at the fault of the driver
10% NCD penalty upon claims (Standard and Prestige)
Promotional rates for NSmen and civil servants
eCall assistance service that automatically alerts the emergency team to provide professional help (Prestige only)
No additional excess for young and inexperienced drivers (Prestige only)

S$1,057.54

Singtel - Car Protect

Affordable comprehensive coverage

Simple application process
Competitively priced
Accident towing charges by default
Authorised drivers and passengers are insured for up to S$50,000
Underwritten by Great Eastern Life

S$831.70
Source: SingSaver