AIA Singapore hosts dialogue on bridging critical illness gap | Insurance Business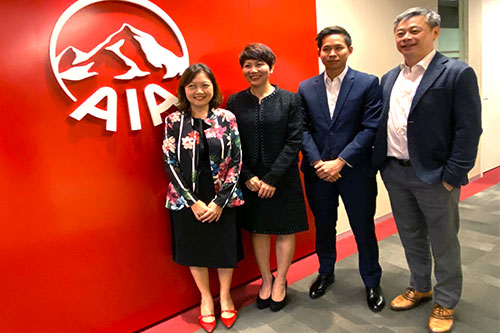 (L-R) Mavis Leong, AIA financial services consultant and cancer survivor, Ho Lee Yen, chief customer and marketing officer of AIA Singapore, Bryan Koh, founder and CEO of White Coat, and Dr Tay Miah Hiang, medical oncologist at OncoCare Cancer Centre.
AIA Singapore hosted a dialogue session on how to bridge Singapore's critical illness protection gap on October 08, alongside the launch of its new AIA Power Critical Cover plan.
According to a 2017 study by the Life Insurance Association Singapore, the country had an 80% critical illness gap. This meant that while an economically active adult needs critical illness protection worth SG$316,603, they only have existing CI coverage of SG$59,776 on average.
During the dialogue, Dr Tay Miah Hiang, senior consultant and medical oncologist at OncoCare Cancer Centre said that those who are not well-covered often take a gamble when they go into a procedure for critical illnesses, such as cancers, which are not a one-time expense, often involving years of treatment and care.
"Ideally, anyone should be able to get the required treatment, without money being a consideration. Getting adequate insurance coverage is an important step towards that," he said.
The dialogue also featured Mavis Leong, an AIA financial services consultant and two-time cancer survivor.
"Knowing I had sufficient coverage allowed me to seek treatment calmly and take time off from work to recover without any worry about the financial impact," she said. "It is important to know what exactly you are being covered for, to ensure that you have enough to tide you through difficult times with peace of mind."
According to a statement by the insurer, AIA Power Critical Cover provides protection from diagnosis of pre-early conditions to all stages of critical illness for 175 conditions. AIA highlighted the policy's pre-early benefits, which include chronic disease benefits that are not covered by typical CI plans. AIA claims to be the first in the market to cover diagnosis of Type 2 Diabetes to help cover the additional cost of living with the condition.
Read more: Singapore life insurers refine critical illness definitions
It also provides a cardiovascular disease benefit and a benign and borderline malignant tumour benefit.
To assist customers throughout the recovery process, AIA worked together with several partners, including WhiteCoat, providing on-demand telemedicine services for early intervention and consultations with GPs to help manage chronic conditions, as well as Medix, which provides personal case management services for individuals with serious medical conditions.
Ho Lee Yen, chief customer and marketing officer of AIA Singapore, explained that a false sense of security is one of the underlying factors contributing to Singapore's protection gap. CI policyholders are either unaware of what their plan actually covers, or they mistakenly think that their plans adequately cover all conditions.
"It is of utmost importance to us that AIA Power Critical Cover provides Singaporeans with life-long comprehensive protection, while also staying relevant to evolving healthcare needs," she said.