Allianz lends support to football team in ASEAN Para Games | Insurance Business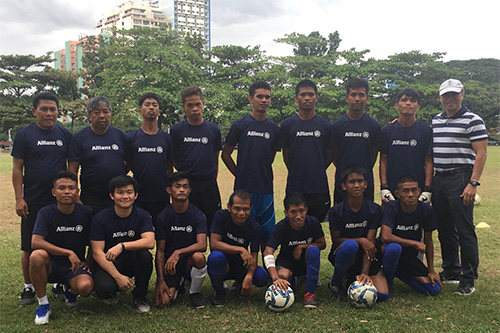 Allianz PNB has pledged its support to the CP Rascals (pictured), the Philippines' cerebral palsy football side that will compete in the ASEAN Para Games in March.
According to a statement by Allianz, it will provide life, medical, and travel insurance for the CP Rascals. The team was formed by the Henry V. Moran Foundation, a non-profit organisation that is focused on developing football programs for public school youth in the country.
"Our search for players started in March last year after we were appointed by the PHILSPADA (Philippine Sports Association for the Differently Abled) to form a team to represent the country in the 10th ASEAN Para Games," said Danny Moran, head of the Henry V. Moran Foundation.
"Our main concern was life and accident insurance as bringing football to persons with disability has its risks, especially since training would be from three to six months," Moran said.
The CP Rascals team currently has 12 members, with plans to add two more before the ASEAN Para Games begins, Allianz said.
This is not the first time that Allianz and the Henry V. Moran Foundation have worked together to advance football in the Philippines. For the past three years, the two parties cooperated to stage the Allianz National Youth Futsal Invitational (ANYFI), a grassroots football program held nationwide. Some of the kids who participated in the program have gone on to train at the Allianz Explorer Camp in Germany under FC Bayern.
Moran added that it is their dream to continue strengthening the CP Rascals so that they can also participate in the 11th ASEAN Para Games in Vietnam in 2021.