FWD Group partners with Special Olympics | Insurance Business Asia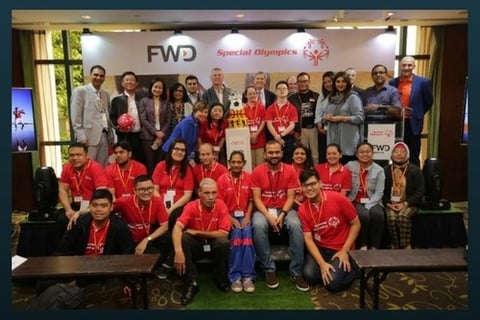 FWD Group has signed a three-year partnership with Special Olympics Asia-Pacific to support young people with intellectual disabilities throughout Asia.
The partnership will target FWD's markets – Singapore, Hong Kong, Thailand, Indonesia, the Philippines, Vietnam, and Japan. It was launched at a ceremony held on February 01, during the Special Olympics' Asia-Pacific annual regional leadership conference and coinciding with the organization's 50th anniversary worldwide.
FWD's sponsorship will support the Special Olympics' Unified Schools and Athlete Leadership programmes. The former will reach out to 12,000 young people through workshops that address negative perceptions of people with intellectual disabilities. It will bring together 90 schools and communities through 240 sports and non-sports events to celebrate inclusion and acceptance.
Meanwhile, the Athlete Leadership programme will mentor 300 athletes with intellectual disabilities to develop skills that help them at both work and in their daily lives. It will also train 200 mentors to support them. In addition, Special Olympics will establish partnerships with employment agencies to help athletes with intellectual disabilities learn leadership skills and find employment.
"We would like to thank our partner Special Olympics for helping us bring to life our Community Care vision to empower people to live fulfilled lives across Asia," said FWD Group chief executive Huynh Thanh Phong. "Together, we hope to increase awareness, encourage inclusion, and create a future with a difference for people with intellectual disabilities into the community."
Dr John Dow Jr, Special Olympics Asia-Pacific chief of regional & program operations, added: "With their strong regional presence, FWD is poised to make a difference to our athletes in many of our Programs and I am happy to welcome them to the Special Olympics family. We look forward to a long and productive relationship with FWD helping us build an inclusive society on behalf of our athletes and their families."
Related stories:
FWD Singapore hops aboard Insurance Market platform
FWD Singapore launches industry-first cover
NHL slammed for barring players from Olympics