Allianz PNB to focus on millennials in new campaign | Insurance Business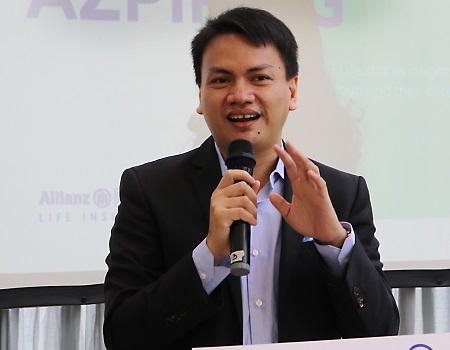 Despite the stereotype that millennials (those born in the 1980s and 1990s) are financially irresponsible, research by global insurer Allianz revealed that they are actually positioning themselves to be in better financial shape than other generations.
In response to the financial needs of millennials, Allianz PNB Life, the global insurer's joint venture in the Philippines, launched AZpire Growth Prime, a regular pay unit-linked life insurance plan which focuses on faster fund accumulation for investment needs. The product is targeted at millennials, most of which are in the early stages of building their professional careers and starting their own families.
During the product launch, Allianz revealed the results of its research on millennials, of which there are 106 million in the Philippines.
According to the Allianz Global Survey, 50% of millennials felt generational envy, or the feeling that their parents' generation had it better, especially in China and India.
Meanwhile, the insurer's Generations Ahead Study showed that 77% of millennials feel financially confident, compared to 64% of Gen Xers, while 41% of millennials reported they always set aside money each month for saving, versus 36% of Gen Xers.
However, social media has become the financial Achilles' heel of millennials. More than half (55%) reported experiencing a fear of missing out and 57% spent money they hadn't planned to because of what they saw on their social media feeds. A vast majority (88%) of millennial respondents also believe social media creates more of a tendency to compare one's wealth/lifestyle with others.
Of note to insurers and agents is the finding that 42% of millennials rank person-to-person interaction with a financial professional as their top method of obtaining financial advice and products, as compared to 16% that preferred the online channel.
At the launch, Insurance Business spoke with Efren Caringal (pictured), chief finance officer of Allianz PNB, on how the insurer is working to meet millennials' financial needs.
According to Caringal, PNB Allianz is currently growing its agency force in the country by establishing agency offices in eight major cities nationwide. At present, the firm currently has over 600 agents.
"The majority of them are new to insurance, so we invested heavily in training them in areas such as financial needs analysis, our products, and others," he said. "We plan to expand our agency force further. Our short-term goal is to have 1,000 to 2,000 agents within two years' time."
In an emerging market such as the Philippines, insurance penetration is typically very low. Data from the Insurance Commission pegged the country's insurance penetration at 1.75% in 2015, which is lower than its Southeast Asian neighbours.
According to Caringal, one way to help increase penetration in the emerging market is to make insurance more simple for consumers.
"Our internal strategy can be described in one word – simplification," he said. "We want to simplify insurance for customers. When we designed AZpire, we wanted customers to find it simple to understand and the features are straightforward."
He added that Allianz PNB will work to promote financial literacy by embarking on initiatives to help educate Filipinos about insurance and financial planning.
In the future, Allianz PNB is planning to release more insurance products, and possibly venture into general insurance, in line with Allianz's status as one of the largest P&C insurers worldwide.
"We want to grow our customer base and reach out to more Filipinos, targeting millennials and young families," Caringal said, adding that the partnership with PNB allows it to reach the middle class and families of overseas Filipino workers, while the partnership with HSBC targets the affluent and high net worth market.