Dah Sing Bank, Sun Life enter 15-year bancassurance partnership | Insurance Business Asia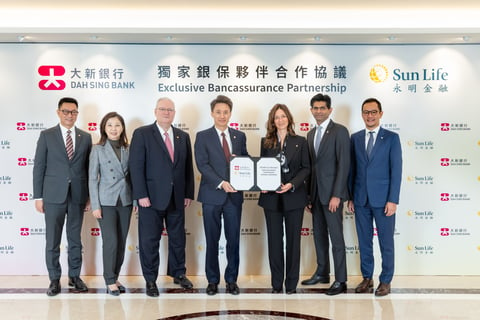 Sun Life Financial subsidiary Sun Life Hong Kong and Dah Sing Bank have announced an exclusive, 15-year bancassurance partnership in Hong Kong.
Starting July 2023 and following the completion of regulatory processes and approval, Sun Life will be the exclusive provider of life insurance products to the bank's 570,000 retail banking customers for the next 15 years, combining Sun Life's product suite with Dah Sing Bank's 40-branch network in the territory.
Sun Life has grown into a leading international provider of health, life, and wealth solutions over its 130-year history in Hong Kong, with market leadership in the retirement and high-net-worth businesses. Home-grown Dah Sing Bank is one of Hong Kong's most trusted financial services brands, packing a 75-year track record and a workforce of over 2,000 in the territory.
"As a bank with a 75-year history in Hong Kong, Dah Sing Bank has been focusing on delivering comprehensive, high-quality banking products and services to satisfy the wealth management needs of customers from all walks of life," said its chief executive and managing director, Harold Wong (pictured above center).
Wong said Sun Life shared the bank's goals and core values, and that both parties would be "mutually rewarded" by the exclusive partnership. It would give Sun Life access to Dah Sing Bank's fast-growing wealth management franchise, while the bank's customers would benefit from Sun Life's quality insurance products.
According to Sun Life Asia president Ingrid Johnson (pictured third from right), the 15-year bancassurance partnership with Dah Sing Bank was one of more than 20 like alliances Sun Life had formed in seven markets across Asia.
"[We are expanding] our reach with world-class solutions and partners who share our commitment to place clients at the center of everything we do," Johnson said. "We look forward to forging a formidable partnership with Dah Sing Bank as together we help even more clients achieve lifetime financial security and live healthier lives."
Also commenting on the partnership was Sun Life Hong Kong chief executive officer Clement Lam (pictured rightmost), who called the 15-year bancassurance partnership the "natural next step" for both parties, considering their business capacities.
"Sun Life and Dah Sing Bank share a long history in Hong Kong and a deep knowledge of the needs of our clients," Lam said. "Together we are committed to designing the best products and digital solutions for clients and providing them with simple, fast, and enjoyable experiences at every touchpoint."
Sun Life will pay the bank HKD 1.5 billion for this exclusive partnership, in addition to ongoing variable payments depending on its success.