Great Eastern achieves milestone in agent certification | Insurance Business Asia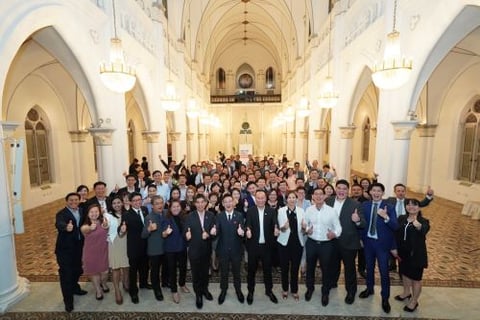 Great Eastern executives and financial representatives at the graduation ceremony
Great Eastern has announced that 168 of its financial representatives have been certified by the Financial Services Managers Association (FSMA) and Institute of Banking and Finance (IBF), and subsequently honoured these agents at a graduation ceremony held at CHIJMES on October 25.
According to a statement by Great Eastern, its agents have completed the FSMA's Agency Management Training Course (AMTC) and achieved IBF Standards Level 3 accreditation, and it is now the major insurer with the highest number of agents with those certifications in Singapore.
"We are very proud to have 168 of our financial representatives stepping up to the challenge and completing these rigorous programmes," said Ben Tan, managing director for regional agency, FA and bancassurance at Great Eastern.
"Great Eastern is committed to building a talent pool of dynamic and motivated life planners," he added. "With the new skills acquired, they can build a rewarding career with us and make a difference by helping people achieve financial freedom. For the customers, this ensures continuity and peace of mind and they can rely on Great Eastern for their evolving protection and financial needs through the different stages of their lives."
Read more: Great Eastern invests in digital tools for its agency force
FSMA was established in 1995 and is the only voluntary organisation within the financial services and insurance industry to serve the needs of agency field leaders and managers, according to Great Eastern's statement. Meanwhile, IBF is a not-for-profit industry association set up in 1974 to foster and develop the professional competencies of the financial industry, and represents the interests of 200 member financial institutions including banks and insurance companies.
Great Eastern's move is in line with the Monetary Authority of Singapore's Financial Services Industry Transformation Roadmap, which seeks to strengthen Singapore's financial capabilities – including equipping existing professionals with new skills. The insurer said that it is targeting 220 certified financial representatives with IBF Level 3 accreditation by 2020.