Great Eastern invests in digital tools for its agency force | Insurance Business Asia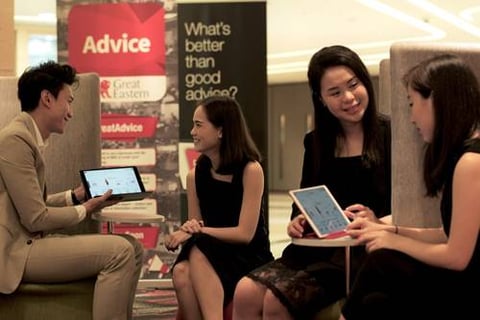 Great Eastern has unveiled a series of initiatives aimed at equipping its agency force with digital technology, improving their capabilities to serve customers.
The Singaporean insurer has created a digital platform, known as Great Digital Advantage, which will help its agents deliver services to customers and enhance agency efficiency, productivity, and professionalism, it said in a statement.
The platform currently contains the following components:
GreatAdvice – An interactive financial planning tool that allows Great Eastern financial representatives to provide more value-added guidance and help customers to make informed decisions regarding their needs, as well as providing a more engaging and seamless customer experience.
GreatPlanner – Enables financial representatives to better manage their sales activities and monitor sales performance results at a glance. This will significantly improve overall productivity and efficiency.
GreatPortfolio – This tool allows customers' insurance policies to be captured with a snap, seamlessly consolidating their entire policy portfolio. This enables financial representatives to have a complete overview of their customers' policies and be able to identify and plug protection gaps more effectively.
Gerica – A chatbot that answers customer queries around-the-clock, greatly reducing the insurer's turnaround time in responding to customers.
Micro Learning – Contains bite-sized e-learning modules to help financial representatives enhance product knowledge and core competencies.
"Digitalisation presents vast opportunities for us at Great Eastern to help the community bridge their protection and financial gaps," said Ben Tan, Great Eastern's managing director of regional agency/FA and bancassurance. "We recognise that our agency force plays a significant role to help deliver our brand promise to our customers."
Read more: Humans and robo-advisors can co-exist, says insurance executive
Tan also revealed other initiatives by Great Eastern, such as #GreaterWay, a year-long onboarding programme for new financial representatives, as well as the construction of its new agency premises at Paya Lebar Quarter. Meanwhile the Great Eastern Discovery Centre, housed at the company's headquarters, will feature zones where potential joiners can learn about the company and the career opportunities it can offer.
"The interactions between our financial representatives and the customers are among the most important touchpoints in our business," said Ryan Cheong, Great Eastern's managing director of digital for business. "We hope to see the Great Digital Advantage digital platform enable our representatives to transform the way they work and serve our customers into the digital future. The rise of the digital customers means we have to relook at our own view of how customers will see our representatives and the company. Customer centricity has to move beyond the touchpoints to all aspects of our business."