Manulife Hong Kong grants promotions to 30 'outstanding agency leaders' | Insurance Business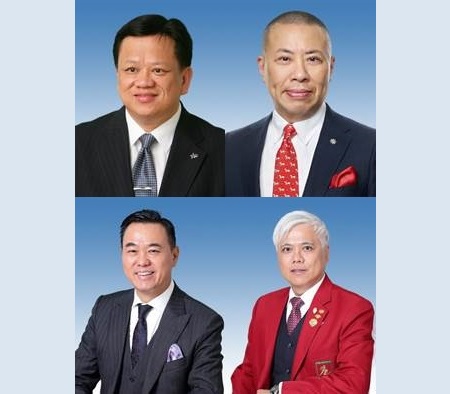 Manulife Hong Kong has named George Lung, JP and Johnny Chan as senior executive regional directors, the company's most senior agency roles. Simultaneously, the insurer announced 28 other promotions, as it continues to strengthen the distribution channel.
Lung (pictured top-left) is a 29-year veteran of Manulife Hong Kong, and has served as executive regional director since 2016. According to a statement by Manulife, he is a frequent qualifier for overseas conferences and has earned various awards, including regional director of the year, with outstanding results in both production and recruitment. In 2018, Lung set a new record of attaining the Distinguished MDRT District – Highest Number of Qualifiers. He also received the Bronze Bauhinia Star from the Hong Kong government in 2014 for his commitment to community service.
Chan (pictured top-right) joined Manulife in 2009, and was promoted to executive regional director in 2017. According to Manulife, he's a frequent winner of various Manulife management awards, including the Regional Director of the Year accolade, reflecting his successes in production growth, recruitment and productivity. Under Chan's leadership, a fifth of his agency group qualified for MDRT. Chan served as president of Life Underwriters Association of Hong Kong (LUA) in 2006
Both Lung and Chan have been recognised by the General Agents and Managers Association (GAMA) in multiple instances across their careers, the statement said.
Read more: Manulife Hong Kong promotes 40 agency leaders
"Our agency force is trusted to provide expert advice and ongoing support to individuals and families on financial planning," said Kareen Chow, Vice President and Chief Agency Officer, Manulife Hong Kong. "The promotions we are announcing today recognize outstanding agency leaders who inspire our people to reach new heights through professional development and an unwavering customer focus. Each shows great dedication to helping Hongkongers plan for and protect their future, and their contribution to Manulife is exemplary."
For the other promotions, Daniel Chu (pictured bottom-left) and Samy Chan (pictured bottom-right) have been named senior regional directors, while Clement Lam, Vernon Cheuk, May Wong, and Dominic Sin were elevated to regional director level.
Danny Yau, Bonnie Kan, Raymond Wan, Victor Kuan, and Daniel Cheng have all advanced to senior district director, while Elizabeth Tang, Wendy Chan, Daniel Li, Mandy Cheung, Paul Yeung, Andy Law, Terence Tang, Jackie Chan, Tracy Wong, Janette Chan, Lyman Lee, Michael Ismail, Sisi Sun, Terry Chan, Victor Chan, Carolina Dos Santos, and Jeremy Tsang have been promoted to district director.