Manulife Hong Kong teams up with athletic association to launch half marathon | Insurance Business Asia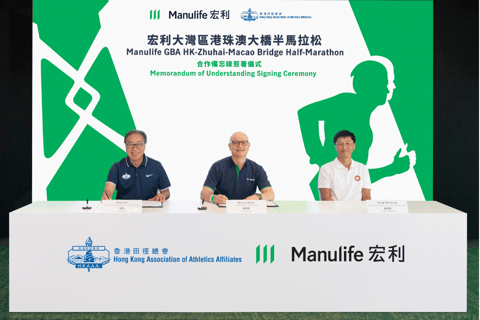 Manulife Hong Kong has signed a memorandum of understanding with the Hong Kong Association of Athletics Affiliates (HKAAA) to establish a half marathon event that will take place on the iconic HK-Zhuhai-Macao Bridge (HZMB).
The first-ever Manulife GBA HZMB half marathon aims to provide an exciting challenge for both professional and amateur runners, with the added experience of running on the world's longest sea crossing bridge-tunnel system, according to a statement from Manulife Hong Kong and HKAAA. Plans for establishing additional events in Zhuhai and Macau are also in the works.
The agreement between Manulife Hong Kong and HKAAA was finalised in a signing ceremony attended by Manulife Asia president and CEO Damien Green (pictured above centre) and HKAAA chairman Kwan Kee (pictured above left). Guests of honour included Tak-keung, commissioner for sports of Hong Kong's Culture, Sports and Tourism Bureau (pictured above right), and Roy Gori, Manulife president and CEO.
"Manulife has been growing with Hong Kong for 125 years, making us the longest continuously operating life insurer here," Green said. "This agreement demonstrates our profound and enduring commitment to the city, and we are determined more than ever to bring new energy that will accelerate Hong Kong's position as an international finance centre and reinforce its pivotal role in developing the Greater Bay Area as a vibrant region. We are incredibly pleased and honoured to be making this significant investment in our milestone anniversary year to continue supporting the city's future."
"It gives us great pleasure to partner with Manulife Hong Kong to realise this first-ever half marathon on the HK-Zhuhai-Macao Bridge," Kwan said. "We are extremely impressed with Manulife's passion for health and their unwavering commitment to the city, together with their extensive experience of sponsoring road races internationally. We are thrilled that HKAAA is pursuing this new and exciting destination for distance runners. Forming this partnership and taking forward our shared ambition of hosting a running event at a signature GBA landmark when the HKSAR is celebrating its 25th anniversary is particularly meaningful."
The Manulife GBA HZMB half marathon is slated to take place in 2023, with execution planning and feasibility studies on capacity and logistics currently underway.