No recession 'red flag' for Marsh yet - CEO | Insurance Business Asia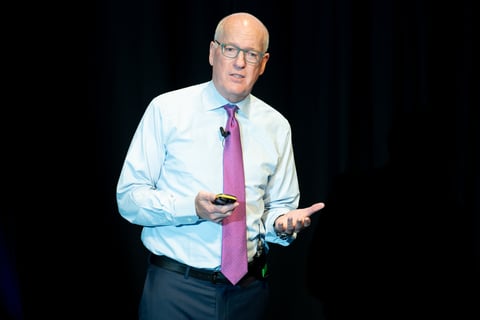 There may be a "great deal to be concerned about on a macro basis and a geopolitical basis in the world today", but the world's largest insurance broker remains confident about its prospects in the face of any incoming recession, Marsh McLennan CEO Dan Glaser (pictured) said on Thursday.
Glaser addressed analysts as the global brokerage released its second quarter results, reporting year-on-year revenue growth of 7%.
"I don't think there's a more resilient organisation that you could actually invest in," was the CEO's bullish message.
"I do think it's important to note that in in all past recessions since 1952, we grew adjusted EPS and we know how to run a business in good times and in bad times," Glaser said.
The broking boss described recessions as a "natural form of the economic cycle in a capitalist society."
"We don't fret over that, and we don't plan all that much around it," Glaser said.
The insurance market "is firm and remains firm", Glaser said, with reinsurance on the property side "even tightening".
Economic downturn impacts are typically first seen in its non-insurance businesses, Oliver Wyman and Mercer, Glaser told analysts.
"The red flag is not going up quite yet, but we watch it carefully," the CEO said.
Marsh McLennan made 6,000 net hires last year and the Glaser described this as "pretty perfect [in retrospect]". The business has slowed hiring into 2022, Glaser confirmed, having returned to a "more normal" pattern consistent with 2017 to 2019.
The slowdown "is not cautious", Glaser said, but instead recognises the scale of new hires in 2021.
As for where the global broker might put measures in place if economic conditions warrant this, Glaser said the business remains in the "early to mid stages" of being able to drive operational improvements and cut internal costs.
"Most of our costs are pretty identifiable – you have compensation and benefits, you've got technology, you have premises or real estate, and you have T&E [travel and expenses]," Glaser said.
"So the levers that you can then utilise are valuable and I have to say we have a very large […] compensation pool driven by profitability.
"It is dramatically larger than it was a decade ago or five years ago because our profitability is dramatically larger, and that gives us tremendous flexibility of protecting shareholders in the event that we hit some headwinds on growth or macro-economic factors."