Tokio Marine Thailand, Safety Insurance complete merger | Insurance Business Asia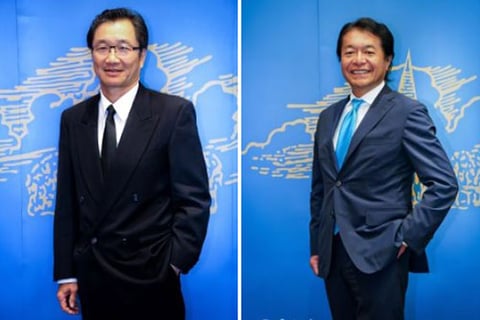 Tokio Marine Insurance (Thailand) PCL and Safety Insurance PCL have announced the completion of the two companies' integration, with approval from Thailand's Office of Insurance Commission (OIC).
As a result, the companies will operate under the name Tokio Marine Safety Insurance (Thailand) PCL (TMSTH), with Suteechai Santivarakum (pictured left) taking on the role of CEO and Hironori Kiryu (pictured right) as president, according to a company statement.
According to Santivarakum, who was CEO and managing director of Safety Insurance prior to the merger, TMSTH aims to be one of Thailand's leading insurers with a GWP target of THB21 billion (US$680 million), and a net profit of THB1.1 billion (US$35.5 million) in three years' time. The company also aims to grow by around 4% to 5% annually.
Meanwhile, Kiryu was appointed president of Tokio Marine Insurance (Thailand) in 2018. Before that, he was an associate director & general manager at Tokio Marine & Nichido Fire Insurance in Japan.
The merger was announced in mid-2019, around a year after Tokio Marine bought Insurance Australia Group's Thailand and Indonesia businesses, which included Safety Insurance.
"This integration will help accelerate our growth in the Thai market, as we look to expand our presence in the region," said Saloon Tham, CEO of Tokio Marine Asia Pte Ltd. "With the completion of this integration, TMSTH will become one of the largest operations in the Asia region for the Tokio Marine Group, and I expect TMSTH to play an important role for future growth in Asia."