Young Singaporean inventors create "smart" motorbike helmet | Insurance Business Asia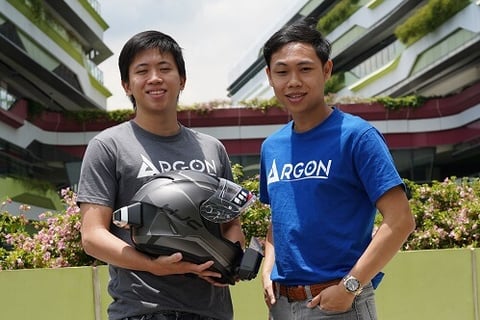 Whyre's Dylan Tan (left) and Glen Ong (right), holding a helmet fitted with the Argon AR device
Five Singaporeans in their 20s have created a "smart" motorcycle helmet that assists riders, and which can potentially help in settling insurance claims and preventing accidents.
The five individuals are behind the start-up Whyre, which created the Argon augmented reality (AR) device, which can be installed on a motorcycle helmet.
The device is composed of two pieces, and is attached externally in front of and behind the helmet. A camera on the rear unit allows the rider to see blind spots through an eyepiece attached to the front of the helmet.
The eyepiece can also display GPS-enabled maps, removing the need for the rider to look down at a handlebar-mounted device, allowing them to focus more on the road.
Glen Ong, 26, Whyre's chief business development officer, told Today that during his time as a paramedic for the Singapore Civil Defence Force he responded to several motorcycle accidents.
"Riding should not be taken lightly," he said.
However, the idea for the device came from Dylan Tan, 25, Ong's cousin and a graduate of electrical and product development at the Singapore University of Technology and Design (SUTD). It began as a school project, and Tan and his teammates are now refining it after graduation.
According to Tan, the project has attracted international attention, including that of an Australian motorcycle rental company, which told them that it can be useful in settling insurance claims in case of accidents, as well as improving road safety, which also benefits insurers.
The rental company said that a rider taking their eyes off the road to glance at the maps is the number one cause of accidents in their business.
However, Whyre needs to raise US$300,000 in order to mass produce the device. The start-up is targeting foreign markets such as Australia, New Zealand, Europe, the US, and Malaysia.
"Considering Singapore is quite a small country, we plan to focus more on marketing and awareness efforts overseas to reach the international audience," Tan said.