Allianz lays out sustainability efforts in Asia | Insurance Business Asia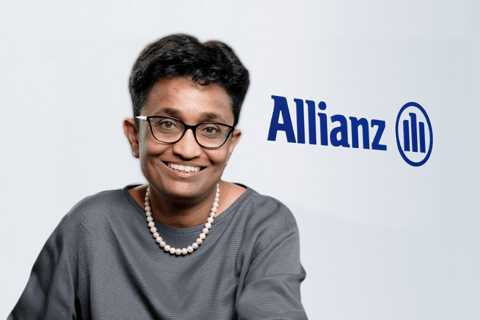 Allianz Asia-Pacific has shared its efforts across various markets to achieve net zero, as the region continues to feel the severe effects of climate change in the form of more frequent and more extreme weather events.
According to Anusha Thavarajah (pictured above), regional CEO, Allianz Asia-Pacific, transitioning to a net-zero and sustainable future will "unlock new business potential" for Allanz in the region. Thus, it is important for the global insurer to gain an early position and identify the sectors in Asia to most benefit from the transition. The company will then build up its expertise to capture these new opportunities in the life and health, property and casualty, and investment businesses.
"In our Asia strategy – called Pinnacle 2030 – sustainability is one of the key enablers to drive growth," Thavarajah said. "We focus on our ecological commitment in line with our group commitments, our social responsibility to the communities in which we operate, and our governance, by integrating sustainability and ESG aspects in our business, ensuring strong compliance processes, data protection and security."
Thavarajah said that all the insurer's operating entities in the region have appointed a sustainability sponsor and sustainability lead, who are tasked with implementing comprehensive and localised sustainability plans and analysing emission profiles of Allianz's investments to meet defined sustainability targets at both regional and group levels.
Among the group's net zero efforts in Asia-Pacific is Allianz Insurance Singapore's (AIS) support of Singapore's electric vehicle programme. According to Thavarajah, AIS leads Singapore motor insurers in several areas, including coverage of EV-specific risks, (such as battery and electrical components, damage arising from autonomous driving, and cyber attacks), certified EV repair workshops, and preferred rates for EV customers.
In Indonesia, employees of Allianz Peduli Bumi have planted 10,000 mangrove trees since the programme's launch in 2019.
This year, Allianz Ayudhya in Thailand launched the Cloud Food Bank, which aims to reduce over 1.16 million kg of greenhouse gas emissions. The Thailand business began its sustainability journey in 2019, encouraging its more than 1,200 employees to adopt green behaviour through initiatives such as improving waste management and reducing energy consumption. The Cloud Food Bank platform will support its partner charity, Scholars of Sustenance, to match food donors with in-need communities, by turning food surplus into meals.
Allianz Philippines launched the Allianz Ride Safe project, which aims to promote biking as a mode of sustainable and healthy lifestyle and help reduce the carbon footprint. According to a 2019 UN report on cycling, switching from using a car to a bicycle saves 150 grams of CO2 per kilometre. Since the launch of Allianz Ride Safe, the insurer also led several other sustainable projects across the Philippines, such as solar-powered pit stops and bike lanes.