Brisbane Lions crack the whip on brokers | Insurance Business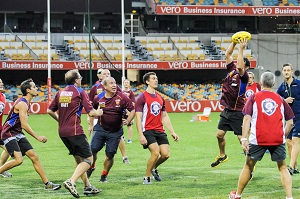 Brokers swapped their suits for sneakers when they were put through their paces by the Brisbane Lions.
Vero
's annual 'Train with the Lions' event was staged recently at the 'Gabba with the Brisbane Lion's hosting around 30 insurance brokers at a full-on training session.
After an initial briefing session, the brokers and Vero staff were put through their paces in a series of exercise drills and on-field training action. Participants threw themselves into the action with a lot kicking, handballing and contested marking.
Suncorp
Commercial Insurance CEO
Anthony Day
welcomed the guests saying that Vero's sponsorship of the Brisbane Lions was the product of a natural synergy.
"We share a challenger attitude and don't believe in ever taking a backward step. And we have both learnt that you don't get anywhere in this world without true teamwork", said Day.
The guests enjoyed an experience that left them enlightened, a little exhausted and very satisfied.