Brokers and insurers must band together for the election | Insurance Business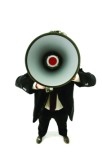 Insurers and brokers need a collective voice on important issues and this is even more crucial with elections looming.
The election is six months away and it is not too late for both sectors to add a collective positive voice to the debate on the National Disability Insurance Scheme, Suncorp Commercial CEO Anthony Day told delegates at yesterday's Steadfast convention.
"As the NDIS continues to take shape, the industry needs to demonstrate that we do have an interest in getting the best result for the whole community and that we have something positive to contribute.
"While some of the industry players – both insurers and brokers – as well as the industry bodies have some dialogue with both state and Federal governments we need to be in regular, consistent dialogue with the various ministers and bureaucrats," Day said.
"Not necessarily as critics but as advocates of the industry and there to help the governments understand the issues and also help them find solutions."
Day added that when the country goes to the ballot box in September, the industry needs to "ensure it has a clear voice with the Government on how the insurance industry will continue to successfully contribute to the community".
"The bottom line is the insurance industry has to shape its own destiny by having a proactive voice. Otherwise it will be shaped by others."