Lloyd's chief exec John Neal on the responsibility of insurance today | Insurance Business Australia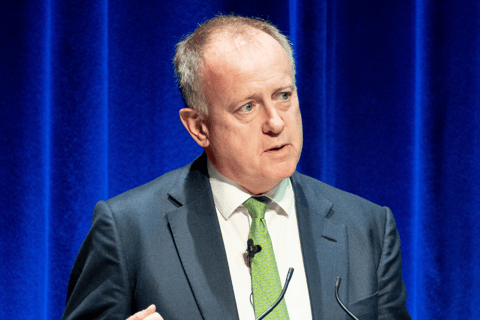 "Awareness of insurance and its value has never been higher," said Lloyd's of London CEO John Neal, as he addressed delegates at the Marsh McLennan Rising Professionals' Global Forum, referring to how recent events have shaped "the most uncertain landscape seen for generations."
Amid such uncertainty, insurance professionals have "legitimate grounds for optimism about the industry you're in and the time that we've got here," said Neal, who was delivering the forum's closing address.
This, said the Lloyd's CEO, was made most evident by the COVID-19 pandemic, which showed that "when the unexpected happens, people look to those in the risk management business for answers, and a framework for bouncing back."
"Stuff will always go wrong," said Neal. "Try as we might as humans, we're never going to be able to eliminate risk from our lives. Sometimes it just takes being in the wrong place at the wrong time… as I found with my recent cycling accident."
He added: "There will always be a need for insurance. It's a core part of a functioning society, helping people to prepare for the worst and to live more confidently in everyday life. What we all do is incredibly relevant and it will always be so."
Another thing demonstrated by the pandemic is the value of having "really clear policies" and being equipped to "explain to customers really articulately when they have cover and when they haven't got cover," said the Lloyd's CEO.
According to Neal, the role of the insurance industry in today's uncertain landscape is twofold. Insurers must not only help clients respond to risks, but also build resilience.
"There's no point waiting for these so-called 'black swan' events to hit and then writing a cheque and saying great, we'll wait for the next one," he said. "We need to understand the causes. We need to share our insights and help society prepare for inevitable future events. And that's what we're trying to do at Lloyd's and across our sector."
Neal called insurance a "timeless and essential" product. Even then, he said that there has never been "a more interesting time" to be in the industry than today.
"There's a whole list of meaty issues to tackle," he said. "How we respond to climate change has both long term and immediate impacts, social and environmental costs, and local and global repercussions – and insurance is far from on the sidelines. We're right at the frontline of responding and we're driving climate action through the products that we're able to create."
The Lloyd's CEO also discussed the impact of high inflation and relatively low growth on the macroeconomic environment, suggesting that the insurance industry gets ahead by considering the risks created for clients, supply chains and organisations.
Additionally, he touched on the situation in Ukraine, referring to how Russia's invasion led to "devastating human cost and a reordering of the energy, political and technological priorities that we've yet to begin to fully understand."
"The challenge for us, as insurers, is to manage these complex risks and to do so with the sensitivity it requires, while at the same time being forward-thinking enough to think about the challenges that could arise in a month, in a year, and possibly even in a decade," he said.
Concluding his speech, Neal said: "Where does the current crisis leave us in the race to Net Zero? What does the current crisis mean for our future relationship with China or with India? And how's that going to be impacted in the years ahead? We cannot just look to the politicians for these answers – we have to become the experts ourselves."