PetSure and Commonwealth Bank receive innovation awards | Insurance Business Australia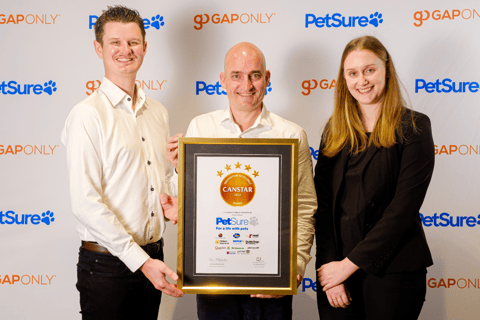 Australian financial comparison website Canstar has awarded PetSure and Commonwealth Bank for their innovations in the 2022 Canstar Innovation Excellence Awards.
For this year's awards, the judges chose six winners among 32 entries submitted from the financial services industry, with many of the innovations they received focusing on speed and streamlining to offer consumers a frictionless experience.
Among the winners is PetSure's GapOnly payment service, which reviews and calculates pet insurance claims while customers are still at the vet and enables users to quickly pay the difference between the vet's invoice and the claim benefit under their insurance policy.
The judges deemed GapOnly's paperless in-clinic claims experience a unique and convenient payment service for pet insurance customers claiming for eligible vet bills and emphasised the innovation's significant impact on customers, including reducing the costs of some eligible vet bills as they simply pay the gap and go.
Read more: PetSure announces product improvements
PetSure CEO Alexandra Thomas commented: "We are delighted to be recognised by Canstar for our innovative GapOnly® payment service for claims."
She added: "PetSure has invested in GapOnly® to help take the stress and worry away for customers when making healthcare decisions for their pets at the clinic. By making pet insurance more accessible to Australians, we aim to improve health outcomes for pets and their owners."
Another insurance provider that took home an award is Commonwealth Bank (CommBank), which was recognised for its CommBank Rewards program that offers personalised rewards and offers within the CommBank app.
The judges said the program's use of artificial intelligence (AI) to connect customers to deals tailored for them gave it a significant "wow" factor, describing it as "a simple and easy way for customers to save money when they shop for brands they love." They also deemed the program to have a significant impact on customers due to its broad availability and use of data insights alongside CommBank's Customer Engagement Engine to provide personalised rewards and offers.