Student driver goes for gold but neglects insurance | Insurance Business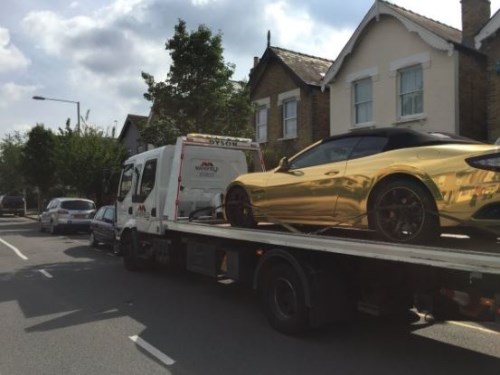 Here's a tip: New drivers need to carry insurance. Experienced drivers need to carry insurance. All drivers need to carry insurance. And if you're a student driver whose ride is a gold Maserati, you
definitely
need to carry insurance.
One unidentified driver in the UK found that out the hard way after driving his £90,000 supercar without insurance, according to a report in the
Independent
. The car is hard enough to miss on its own, but officers' attention was also attracted by its "L-plates" – special license plates designating that the driver of the car was still learning the rules of the road.
The driver was stopped and found to have no insurance, so his rolling bling was hauled away, the
Independent
reported.
The driver will now have to pay a £150 towing fee and £25 per day until he purchases insurance. He'll also get a court date – and if found guilty, could get up to six points on his license and a £300 fine, the
Independent
reported.
Gold Maserati with L-Plates seized by Kingston Officers this morning! #NoInsuranceNoCar pic.twitter.com/3Et0FhtCMq

— Kingston Police (@MPSKingston) August 16, 2016