Lloyd's of London CEO Inga Beale talks about inclusion | Insurance Business New Zealand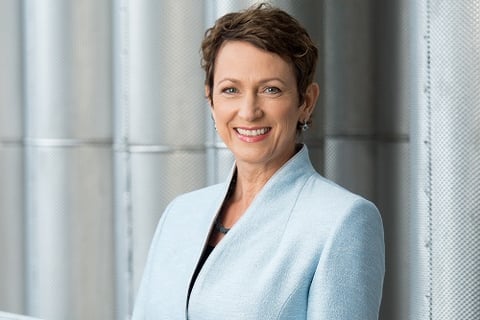 Come October 15 there will be a new man – yes, a male executive is taking over – at the helm of the world's specialist insurance market Lloyd's of London, meaning the reign of its first and only female CEO comes to an end this week.
Dame Inga Beale (pictured), who now speaks more openly about her personal life compared to previous years, appeared on The Andrew Marr Show over the weekend and talked about the business, Brexit, and inclusion. The outgoing chief executive shared what made her become 'bold and courageous' when it came to the subject of sexual preference.
In the pre-taped interview aired during the BBC One programme's October 07 episode, John Neal's predecessor explained how she thought she was heterosexual back in the '80s; how she eventually got the lesbian label when she had a relationship with a woman; and how she ultimately became branded bisexual when she married a man.
"I didn't go out seeking a label, but I got given a label," Beale told Marr. "But what happened was that I got asked if I would be out and be outspoken about it, and I decided to say 'yes'. I decided to do that because I know when I was secret about part of my life, it impacted me at work.
"I was so worried about making sure I was saying the right thing; that I didn't reveal what was happening in my personal life. And that damages you, damages your productivity, it can damage you and your partner's relationship, it can harm all sorts of things."
She continued: "So I decided I wanted to, if I could, make a difference for other people, to say 'let's get inclusive workplaces', 'let's get people talking about their difference', and that's why I decided to be a bit courageous, be a bit bold, and talk openly about it."
Beale, according to a report by The Sunday Times, found herself at the receiving end of sexist and homophobic messages when she took on the top post at Lloyd's in 2014.
Meanwhile inclusion initiatives continue, even with Beale stepping down soon. Last Friday the insurance market announced the launch of Lloyd's Advance, a programme aimed at developing future female leaders not only within the market but also at Lloyd's Corporation. Part of the commitment to closing the gender pay gap, it endeavours to improve the pipeline of senior women by providing targeted development, access to experts, and ongoing networking opportunities.
With an initial cohort of 15 female executives, the Lloyd's Advance pilot programme will run for six months beginning January 2019.