Allianz PNB supports indigenous youth in overcoming obstacles | Insurance Business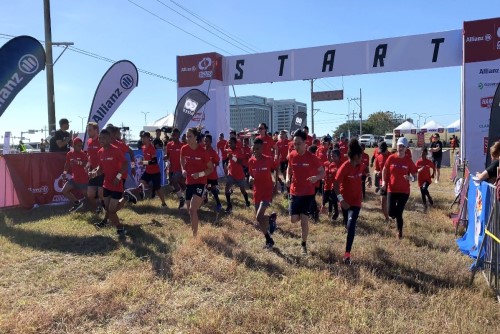 Allianz PNB Life, the global insurer's Philippine arm, is supporting indigenous Aeta youth through financial literacy education as well as by introducing them to the sport of obstacle course racing (OCR).
On December 09, the third leg of the Allianz Conquer Challenge was held in Clark Global City in Pampanga, where 20 Aeta youth, between 16 and 21 years old, raced together with 20 Allianz employees in the pairs category (pictured). The participants are students of Villa Maria Integrated School, a public school adopted by the insurer.
The Aeta are an indigenous people that live in the mountains of central and northern Luzon in the Philippines. Many of their communities are poor and have yet to recover from the devastation brought by the eruption of Mt. Pinatubo in 1991.
The race was 10 kilometres long and contained 25 obstacles, which included hurdles, monkey bars, walls, and weights to carry. It was held on the same trail used by professional racers in a qualifying tournament for the upcoming Southeast Asian Games, in which OCR will be featured for the first time.
"We recognize the strength of the Aetas," said Gae Martinez, chief marketing officer of Allianz PNB Life. "So, aside from educating them with the basics of personal finance through our financial literacy program, we would like to impart to them the value of committing to achieve goals that they have to set. We want to give them a fair chance of having employment opportunities in the future."
One of the Aeta participants, 18-year-old Reyna Baclay, noted that the activities done in the sport are similar to activities they do in daily life, such as carrying 50 kilograms of root crops down to the lowlands to be sold at the market.
"By joining the race, I can tell people, I have a dream, too," she said. "I want to work in IT (information technology). I hope I can continue after I graduate."