Allianz sponsors environment-friendly transportation drive | Insurance Business Asia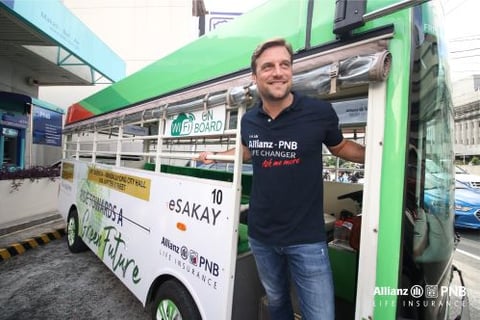 Allianz PNB Life president and CEO Alexander Grenz with one of seven electric jeepney units sponsored by the insurer
Allianz PNB Life, as part of its environmental sustainability initiative, has partnered with Philippine company eSakay to launch seven electric jeepneys that ferry passengers in the cities of Makati and Mandaluyong in the country's capital region.
The e-jeepneys, which resemble mini-buses, can seat 23 persons each, with additional standing room for eight to 10. Each vehicle is equipped with a dash cam, GPS tracking system, and CCTV cameras for security, as well as Wi-Fi access and USB charging ports for passengers' mobile devices, the insurer said in a statement. The vehicles will ply a route that links two major business districts in the capital region, which is infamous for its heavy traffic jams.
eSakay is the electric vehicle unit of Manila Electric Co. (Meralco), which introduced e-jeepneys back in 2010.
According to Yuri Sarmiento, eSakay operations head, the project's objective is to present an alternative technology to fossil fuel-powered vehicles, and help address the problem of air pollution. Around 5,000 people die annually due to environmentally-linked diseases in the country, and motor vehicles are responsible for 70% of CO2 emissions.
Read more: Allianz launches sustainability report
"As a global company, Allianz has always been mindful about its impact on the communities it serves, especially today with the threat of climate change," said Allianz PNB Life president and CEO Alexander Grenz. "We are glad to have found a partner in eSakay to promote our message of environmental sustainability, and we are looking forward to launching more projects that will lead to a healthier planet."