AMTD completes acquisition of Singaporean insurtech PolicyPal | Insurance Business Asia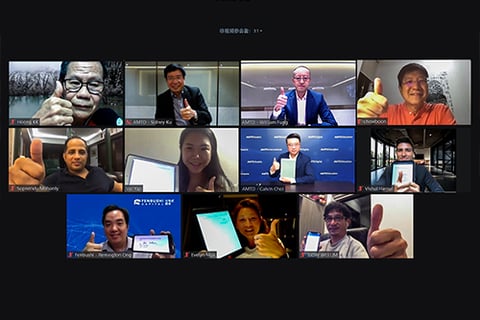 Sopnendu Mohanty, chief fintech officer of MAS (second row, left); Val Yap, founder and CEO of PolicyPal (second row, second from left); and Calvin Choi, chairman and CEO of AMTD Group (second row, second from right) attend the online signing ceremony along with other stakeholders
AMTD Digital has completed its acquisition of PolicyPal, after the Monetary Authority of Singapore (MAS) issued its approval for the transaction.
The deal was finalised through an online signing ceremony, attended by Calvin Choi, chairman and CEO of AMTD Group and chairman of AMTD Digital, and Val Yap, founder and CEO of PolicyPal. Sopnendu Mohanty, chief fintech officer of MAS, was also in attendance, representing the regulator as witness.
According to a joint statement, the transaction, first announced in March, marks the first controlling stake acquisition in the Southeast Asian insurtech industry since the outbreak of the COVID-19 pandemic. Following the signing, PolicyPal will be under AMTD Digital's lead and function as its key operating vehicle to develop and expand in the Southeast Asian insurtech sector. Choi will take the role of PolicyPal's chairman, while Yap will continue to serve as the CEO.
"On behalf of the board of directors of AMTD Group and AMTD Digital, I warmly welcome Val and PolicyPal to join the AMTD family and Val to become the insurtech subject matter champion of AMTD Digital," said Choi. "Together, we will continue building out and reinforce AMTD's commitment to developing an innovative and inclusive insurance platform across Asia. We are especially glad to continue strengthening our digital talent pool in Singapore and we have full confidence in the lion city's global leading role in fintech and innovations."
"Joining AMTD Digital to gain wide and open access to the abundant resources of AMTD SpiderNet and be part of the AMTD Digital core components will be a huge opportunity for PolicyPal," Yap added. "In the post-COVID 19 world, digital integration has become a must-to-have, and PolicyPal has seen enormous opportunity and rapid growth in the past few months."