AMTD Group to acquire Singapore insurtech PolicyPal | Insurance Business Asia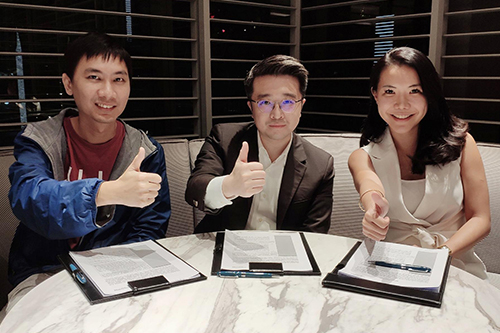 (L-R) Wong Kai Chin, chief technology officer of PolicyPal; Calvin Choi, chairman and CEO of AMTD Group; and Val Yap, founder and CEO of PolicyPal
Hong Kong-based financial institution AMTD will acquire Singaporean insurtech firm PolicyPal, which was the first graduate of the Monetary Authority of Singapore (MAS) fintech regulatory sandbox.
The transaction, which is pending approval by the MAS, will see PolicyPal become a member company under AMTD Digital, it said in a statement. With the acquisition, AMTD will gain PolicyPal's digital insurance broker license from the Monetary Authority of Singapore. PolicyPal will act as AMTD Digital's operating vehicle to develop and expand in the Southeast Asia insurtech sector.
PolicyPal will work closely with AMTD's insurance brokerage company – AMTD Risk Solution – to drive the innovative development of Asia's insurtech space, the statement added.
Calvin Choi, AMTD Group's chairman and CEO said that he envisions AMTD Digital creating an innovative and comprehensive digital financial platform through various strategic partnerships and alliances.
"We have seen a rapid 105% growth for our gross premium underwritten in the past few months. Partnering with AMTD to transform the insurance ecosystem will allow us to provide the best protection coverage to consumers," said Val Jihsuan Yap, CEO of PolicyPal.
PolicyPal was founded by Yap and is supported by 500 Startups, PayPal and angel investor Koh Boon Hwee. It works with 30 global insurance companies, with US$3 billion sum assured coverage on their platform. PolicyPal was also named by KPMG as one of the leading global fintech innovators in 2019.