AXA Malaysia bags major HR awards | Insurance Business Asia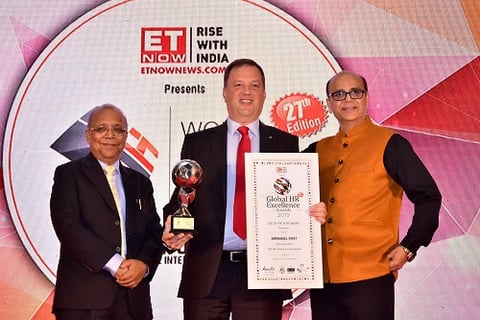 AXA Affin General Insurance (AAGI) has been recognised for its human resources efforts with two major awards at the Global Best Employer Brand Awards 2019 held in Mumbai, India.
CEO Emmanuel Nivet (pictured centre) was awarded 'CEO of the Year' for the second year in a row, while AAGI won the '101 Global HR Heroes' and 'Continuous Innovation in HR Strategy at Work' awards.
"At AXA, we are committed to empowering our customers to live a better life and this can only be delivered if we have strong commitment from our people," Nivet said in a statement. "To guide us on this path, AXA has developed a set of four core values that act as a compass – customer first, courage, one AXA, and integrity."
The awards, which were given out at a two-day ceremony of February 15 to 16 in Mumbai, noted the company's efforts in integrating technology in its recruitment, engagement, rewards, recognition, and performance management functions. AAGI recently introduced Alex, an HR team robot which streamlines various processes via robotic process automation (RPA).
AAGI also introduced several measures such as compressed working schedule arrangements and employee social responsibility leave, which encourages employees to participate in charitable causes to give back to society.
"We strongly believe it is important to create a quality work life for our people and continue to drive innovation in the HR space," said AAGI chief human resource officer Mohd Syukri bin Ahmad Sudari. "We have to be innovative in our HR practices, empathetic in addressing our people's needs and continue to encourage professional growth in an open and equal workplace."