AXA Malaysia fun run benefits five causes | Insurance Business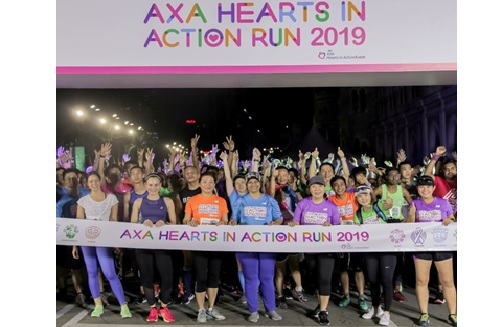 Around 6,500 runners showed their support at the Merdeka Square in Kuala Lumpur
AXA Malaysia's AXA Hearts in Action Run has raised a total of MYR100,000 (about US$24,300) for five charitable organisations, with the support of around 6,500 runners.
The run, which is in its fifth year, encouraged the public to run for better health, as well as help a social cause close to their heart, according to a statement from AXA.
Participating runners showed their support to their preferred cause by donning a shirt bearing the colour of their championed organisation, which were: WWF-Malaysia (green), World Vision Malaysia (blue), National Kidney Foundation of Malaysia (orange), National Cancer Society Malaysia (purple_, and Yayasan Jantung Malaysia (pink).
Read more: AXA XL engages in Global Day of Giving
"By working with five NGO partners for AXA Hearts in Action Run 2019, we strive to drive social inclusion, protect the environment and children, and promote health risk prevention to build a sustainable community," said Emmanuel Nivet, AXA Malaysia's CEO. "We're truly humbled to receive strong support from both new and returning runners who have given us the opportunity to bring positive changes to the community."
According to AXA, the Hearts in Action Run has attracted around 20,000 runners over the past five years, contributing almost half a million ringgit to its beneficiaries. These include 500 dialysis sessions for patients at 28 dialysis centres nationwide for the National Kidney Foundation, community development programmes and assistance for over 2,500 people in 10 villages for World Vision, and health screening and education programmes in rural areas for Yayasan Jatung Malaysia.